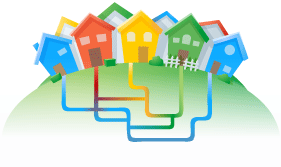 On the heels of Kansas City, Kan. and Kansas City, Mo.'s selection as the nation's first cities to join Google's Fiber to Communities initiative, we announced our role as title sponsor and facilitator of a broadband-focused leadership summit.
Titled "Governance Models for the New Broadband Economy," the summit will explore collaboration models that can be used by communities in planning, financing and implementing community open-access broadband networks.
The summit will include presentations from leading experts that examine how innovative business models, collaborative partnerships and various implementation strategies are paving the way for the Internet to become a fundamental – and critical – part of the metropolitan economy.
The summit's content is being developed primarily for community leaders and elected, appointed and public sector officials and individuals who play a key role in the creation of leadership organizations that will enable the deployment of community-wide broadband networks.
We're excited about the fact that Tim Campbell, chairman of the Urban Age Institute, will serve as the summit's keynote speaker. Tim's 35-year career is impressive and his influence far-reaching. He's developed progressive models for urban development in countries and cities in not only North America, but also in Europe, Africa, Latin America, South and East Asia and Latin America.
David Sandel, president of Sandel & Associates, who is well-versed in developing and deploying collaborative information technology services, will serve as the summit's principal organizer, speaker and panel facilitator. Dave brings a wealth of leadership in the development of Internet governance and business models, as well as a sustainable Internet infrastructure and broadband networks for the metropolitan economy and it's an honor to have him serve in this role.
The summit will be held Dec. 7-8, 2011, at Burns & McDonnell's Kansas City-based world headquarters. Cost for this two-day event is $1,500, and a tentative agenda includes:
Governance models for metropolitan Internet economic development.
Funding models for the new metropolitan Internet economy, including traditional and innovative new approaches.
Successful metropolitan Internet economic development models from the healthcare, energy management, public safety, government and arts and entertainment sectors.
Projects in progress from organizations like Google, Cisco Smart and Connected Communities, IBM Smarter Cities, and Burns & McDonnell.
Stay tuned for more to come on the Summit, and please don't hesitate to leave a comment here with any questions or requests for additional information or contact me directly via email.