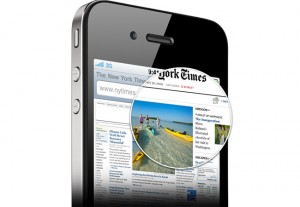 When it comes to spending time on iPhones, engineers are no different from anyone else. Sure, they've probably got Angry Birds and Words with Friends on heavy rotation, but there are many cool apps designed with engineers in mind. Take a look at seven very cool apps that every engineer should have on their iPhone.
Engineer's Calculator
All the geek with none of the pocket protector. The Engineer Calculator app does nearly all of the functions any self-respecting engineer needs. It displays the numbers and calculations in the proper engineering format and features most of the common formulas. At $1.99, it's a small price to pay for having all of the basic formulas right at your fingertips.
Engineering Professional
Why have numerous apps for different fields of engineering, when you can download one app that covers many areas? The Engineering Professional app for the iPhone combines computations and formulas for environmental, mechanical, civil, chemical and electrical engineering, as well as hydrology. The app is a little pricey at $11.99, but it contains over 650 formulas and is expected to expand to contain over 1,000 soon.
e-ENGineer
This app is primarily designed with the electrical engineer in mind. e-ENGineer features the most common formulas for the engineer on the go. Formulas such as star to delta transform, volt drop and resistance will provide quick answers when out in the field or sitting at a desk. It can be downloaded in the app store for $1.99.
CompCalc
This app was designed by an engineer for engineers. The functions on CompCalc incorporate common notations and verbiage used in engineering, rather the standard terms used on most computers or calculators. This application has hex, scientific, engineering and trigonometric calculators and a unique "tape roll" display that allows the user to view the entire formulaic session until they hit clear. This calculator costs $2.99 in the Apple app store.
Orifice
While the app name may cause a giggle, it's a very serious application for any engineer that works with pipes. Technically defined, Orifice is a "square edge orifice sizing" application, meaning it will help the user select the correct size orifice plate to control the liquid flow rate. Just enter the information needed to determine flow rate or pipe size and Orifice does all the work for you. You can buy the program from the app store for $4.99.
RC Beam and RC Design
These two apps, developed by the same company, are great for anyone who works in construction. RC Beam uses moment, shear and torsion to help engineers design reinforced concrete beams. RC Design aids engineers with calculations when designing reinforced concrete members. Together, these two apps create a dynamic duo for anyone in the construction industry. Each application sells for $4.99.
element14 Everywhere
This mobile app for website www.element-14.com lets you take the experience of a huge community of electronic engineers with you everywhere you go. element14 Everywhere lets you connect with professionals around the globe, view recent or popular discussions and check out the twitter feed and status updates. The application is a great way to get advice from peers and keep up with the latest technology in electronic engineering. The best part: you can download it for free.