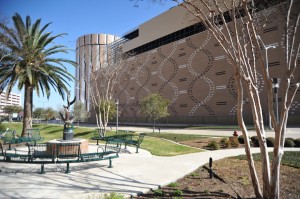 The focal point of Thermal Energy Corporation's recent expansion? A towering thermal energy tank equipped to store 8.8 million gallons of chilled water. The structure is so large that Steel Tank Institute named it Tank of the Year.
While the tank is undoubtedly impressive, TECO's expansion makes the facility a powerful, streamlined plant designed for maximum efficiency, productivity and sustainability.
The expansion allows TECO to meet the needs of the growing campus of Houston's Texas Medical Center, the world's largest medical center. TECO relies on a district energy system, which, according to the company, "produces steam, hot water or chilled water at a central plant and then pipes that energy out to customer buildings for air conditioning, space heating, dehumidification, sterilization, kitchen and laundry processes and domestic hot water use."
The team at Burns & McDonnell built upon our results-oriented energy plant services by completing several components of the expansion project, including validation of TECO's master plan, as well as providing "engineering, procurement and construction management for the Combined Heat and Power Plant No. 1, East Chiller Building, thermal energy storage tank, electrical substation upgrades and the expanded Operations Support Facility and control room," according to TECO.
Here's a video about the TECO expansion:
http://www.youtube.com/watch?v=SRhQeWfgfbo
Highlights of the $377 million energy-saving expansion include:
Substation upgrades
Operations Support Facility with a state-of-the-art control room
Distribution system that includes a new bridge over Brays Bayou
Combined Heat and Power Plant No. 1 with 48-megawatt capacity
As a result of the expansion, TECO's operation efficiency has doubled to 80 percent, and the plant is now the largest district cooling system in the U.S. with the ability to cool the equivalent of 30,000 homes.
In spite of this increased energy capacity, TECO is also a model of energy-efficient practices that not only result in a better output, but also customer savings. Typically, standard power plants effectively use only one-third of the fuel they burn to produce electricity, meaning two-thirds of the fuel ends up being rejected or wasted in the plant's smokestack.
At TECO, this electricity and waste heat is used to produce steam and chilled water, which are piped underground through TECO's district heating and cooling network. This means carbon dioxide emissions are reduced by more than 302,000 tons per year, equal to removing 52,000 cars from the road or planting 72,000 acres of new trees. Plus, TECO customers will see a 1.4 percent reduction in rates this year, coupled with a 2 percent decrease in 2010 that's projected to save both the company and its customers $200 million over the next 15 years.