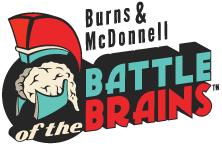 Fame, glory and the chance to design the newest exhibit at Union Station's Science City? Win the Battle of the Brains, and this dream will become a reality.
The result of an ongoing partnership between our Burns & McDonnell Foundation and Science City, the Battle of the Brains is, simply put, a once-in-a-lifetime chance for your school to build the next Science City exhibit.
Teams from participating schools are tasked with creating a comprehensive exhibit proposal, due by 5 p.m. on October 31st that will be judged on creativity, interactive engagement, constructability and budget.
In addition to having the exhibit built, the winning school will receive a piece of a $130,000+ grant dedicated to STEM (science, technology, engineering and mathematics) education.
Runners up and honorable mentions will also receive a portion of the grant funding.
The Battle of the Brains is one of three components of a $1 million+ grant awarded by Burns & McDonnell in an ongoing effort to support both STEM education and a thriving educational environment at Science City, an attraction that, incidentally, was named one of the country's 25 best science centers by Parents magazine.
The grant also includes:
Science On A Sphere, a new exhibit coming soon to Science City.

New programming and physical upgrades for the Burns & McDonnell Engineerium.
Although the grant represents the fulfillment of a one-of-a-kind recognition for some of Kansas City's best and brightest young minds, the financial support also signifies Burns & McDonnell's ongoing commitment to local education and the future workforce. Projections from the U.S. Labor Department estimate that 15 of the 20 fastest growing occupations for 2014 will require significant science and mathematics prep. And if we can play even a minor role in helping kids achieve their educational and career dreams, that's what we consider a priceless investment.