Chances are, many of us drive on bridges or overpasses during our daily commute and we barely give them a second thought. However, the science behind building bridges is complex. Engineering even the simplest bridges takes months, sometimes years of planning before construction even begins. Some bridges are so impressive that no one can ignore them. Read on to learn about some of the most famous bridges in the world.
Brooklyn Bridge
This iconic bridge has stood the test of time and connects Brooklyn and Manhattan. It was built in 1883 and, at the time, was the longest suspension bridge ever built.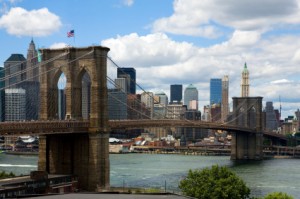 Golden Gate Bridge
On the other side of the United States, in San Francisco, sits the Golden Gate Bridge. The bridge was completed in 1937, after eight years of hard work, and it has become inextricably linked with the San Francisco skyline. The bright orange-red color of the bridge is no mistake. It was chosen specifically to be seen by passengers through the thick fog that sometimes settles on the bay.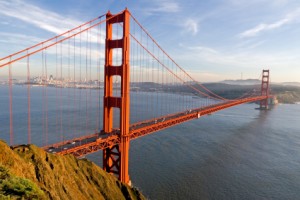 Tower Bridge
This suspension bridge took eight years to build, back in 1886, and it has become an icon synonymous with London. The two towers on the bridges are linked by a set of two walkways at the top of each tower.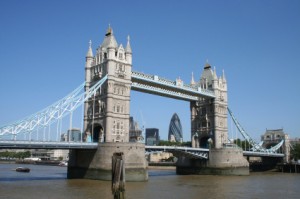 Millau Bridge
Sometimes called the Millau Viaduct, this is the tallest bridge in the world. Located in the south of France, the highest points on the bridge are taller than the tip of the Eiffel Tower. The speed limit on the bridge had to be reduced shortly after opening due to drivers stopping along the bridge to take panoramic photographs from the bridge.

Ponte Vecchio
The name for this overpass literally means "old bridge" and it is the only bridge in Florence, Italy, to make it through World War II intact. This unique bridge dates back to medieval times and still has the buildings built right on top of it. At present, most of the buildings are occupied by artisans and souvenir shops, but it initially housed many butcher shops.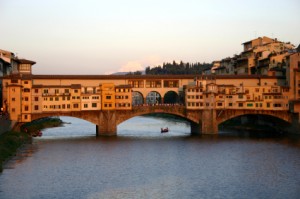 Rialto Bridge
The Rialto Bridge, built in 1591, was predicted to collapse centuries ago, due to the fact that it is made entirely of stone. However, the scenic bridge has withstood the test of time and become an architectural landmark for anyone visiting Venice, Italy.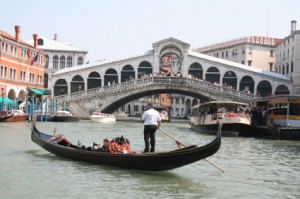 Charles Bridge
The gothic architecture of the Charles Bridge is not the only thing that made this bridge important throughout the ages. For a long time, it was the only point at which travelers could cross the Vltava River in Prague, Czech Republic, making it a major trade route between Eastern and Western Europe.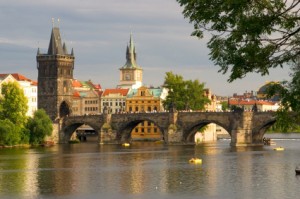 Pearl Bridge
The longer, official name of this bridge is the Akashi-Kaikyo Bridge. The long name is apropos in this case, since it is the longest suspension bridge in the world, measuring in at 6,532 feet. It connects the city of Kobe, in mainland Japan, to Iwaya on the island of Awayi.