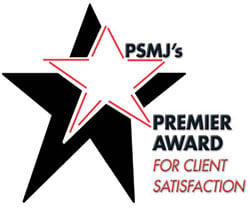 Burns & McDonnell is proud to receive our second consecutive PSMJ Premier Award for Client Satisfaction—an award that recognizes industry leaders for providing exemplary customer service to their clients. We are one of only eight industry firms—and the only firm in ENR's top 100—to receive this honor. We also took home top honors in both the Most Responsive and Best at Managing Budget categories—two criteria that we take very seriously.
PSMJ's Premier Award honors architecture, engineering and construction firms that provide their clients with top-quality communications, impressive performance and cost-effective solutions.
"In our industry, client satisfaction should always be your number one priority," says Frank Stasiowski, FAIA, founder and CEO of PSMJ Resources. "The results these winning firms received clearly indicates a passion for client care and a commitment to excellent service delivery. The award proves that these firms are among the best in the industry at keeping their clients happy, and I applaud their commitment to understanding the importance of client satisfaction."
This designation means a lot to us. It's our mantra to make our clients successful, and accolades like this prove that we're doing just that. After all, successful clients make happy clients.
Congratulations and thank you to all of our employee-owners for contributing to our reputation of providing stellar customer service.
We'd also like to extend our congratulations to the other winners in our industry: Albert A. Webb Associates, Atlantic Coast Consulting Inc., Eramosa Engineering Inc., Fentress Architects, NTM Engineering Inc., Site Solutions Inc. and Sunrise Engineering Inc.