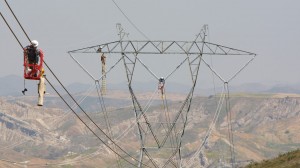 An interesting paradox has emerged during completion of some of California's largest electrical transmission and distribution projects. As the state places an increasing importance on renewable energy and utility companies seek to make these environmentally friendly energy sources available to customers, the projects themselves are often delayed because they're being built in environmentally sensitive areas and habitats.
Take the Tehachapi Renewable Transmission Project, for example. We've partnered with Southern California Edison to create hundreds of miles of new transmission lines that will deliver renewable energy from wind farms in Kern and Los Angeles counties. The project is a critical component of Southern California Edison's push to meet legislative mandates that require 33 percent of California's power to come from renewable energy sources by 2020.
No less than 21 protected species, plus a host of cultural, anthropological, paleontological and natural resources that must be protected, exist within the TRTP area. For the companies involved, including Burns & McDonnell, this means not only being aware of these environmentally sensitive parameters, but also securing the necessary permits and approval to ensure the project can move forward in a timely fashion without compromising the environmental integrity of the worksite.
Projects like the TRTP not only allow us to demonstrate our engineering expertise in the electrical transmission and distribution industries; we also fulfill day-to-day construction management responsibilities that keep the project moving. We have a laser focus on value engineering, utilizing innovative construction methods for components like tower bases in the California forests that minimize environmental impacts.
The project also includes the management of construction permits, ensuring that the proper approvals are secured so that the project isn't stalled. Environmentally sensitive projects are highly regulated. Any given project might require hundreds of permits from myriad agencies. Our job is to actively seek the necessary documentation for each step on lead times that can vary from days to years.
The result is a successful transmission project that's completed on time, despite the highly regulated environments in which these projects are built. In the case of the $2.1 billion TRTP, completion is tentatively scheduled for 2014. These state-of-the-art transmission lines power substations that will help deliver renewable energy through the heart of California's most environmentally rich habitats, creating a cycle of environmental sustainability that's a critical component of both our state's man-made and natural habitats.