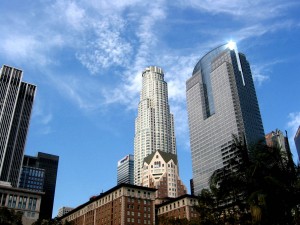 With an increasing emphasis on environmental sustainability in engineering, construction and architecture, it's no surprise that green jobs are on the rise.
A recent study released by Californians for Clean Energy and Jobs Network indicates that Los Angeles has surpassed the Bay Area as home to more green jobs than any other region in the nation. What's more, green jobs are expected to more than double in the next 30 years to a total of more than 433,000, according to a press release.
In 2010, green jobs accounted for 3.9 percent of total employment in the LA area, or about 178,500 of the area's nearly 4.5 million employees, according to the study.
"The study reinforces what we have known Los Angeles is capable of being: a center of innovation and green job creation," said Los Angeles Mayor Antonio Villaraigosa in a press release. "We have made great progress and remain committed to strengthening public-private partnerships, bringing new research opportunities, clean manufacturing and other high-quality clean tech jobs to the LA region."
LA's increase in green jobs not only provides innovative career opportunities, but research indicates that jobs in the renewable energy sector "command wages with a 50 to 100 percent premium over the average job," according to the study.
Given our own growth in the southern California region — from five to more than 100 employees in three years — we have no doubt that green jobs will continue to be an employment game-changer. As we complete large-scale projects like the Tehachapi Renewable Transmission Project and the Sunrise Powerlink Project, both of which will create critical infrastructure needed to increase the delivery of renewable power and change California's energy landscape, Burns & McDonnell is continually on the lookout for talented engineers to join our employee-owned company. We invite you to check out our Careers page on Facebook to stay up-to-date with career opportunities as we continue to be a leader in this increasingly important industry sector.
Photo by John Paul "Boomer" Iacoangelo, courtesy of the Los Angeles Convention & Visitors Bureau