Ku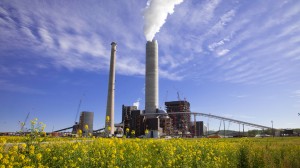 dos to Kansas City Power & Light (KCP&L), whose Iatan 2 project was recently named POWER magazine's 2011 Plant of the Year— the highest honor it bestows. POWER cited innovation, collaboration and technical expertise among the reasons it selected Iatan 2 as Plant of the Year.
Located in Weston, Mo., Iatan 2 is one of the largest, cleanest and most efficient coal-fired power plants in the country. It's KCP&L's first baseload power generator to be installed in nearly 30 years, and it's a big deal, partly because it's up to 12 percent more efficient than typical coal fired units. The plant is equipped with state-of-the-art air pollution controls to reduce overall emissions and produces 850 megawatts of energy — that's enough to power 850,000 homes! The plant's zero liquid discharge (ZLD) unit — which minimizes wastewater production through evaporation and reuse as a dust suppressant for fly ash — is the first of its kind.
Iatan 2 went into service last summer and was the final piece of a Comprehensive Energy Plan (CEP) developed by KCP&L in 2003 to address consumers' need for reliable power supply, desire for reasonable rates and concern for environmental protection. The award recognizes KCP&L for demonstrating how to plan for and build a coal-fired power plant that balances each of those elements.
It's always great to see a hometown company recognized for innovation, especially when that innovation has a direct impact on consumers, their wallets and the environment. Burns & McDonnell is proud to have provided engineering design services for Iatan 2 and upgrades to Iatan 1, which was also part of the CEP.
You can check out the August edition of POWER magazine for a more in-depth look at the project.
Congratulations, KCP&L!