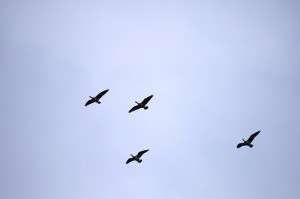 On Jan. 15, 2009, US Airways Flight 1549 descended from LaGuardia Airport in New York City and after just six minutes was forced to make an emergency landing in the Hudson River upon striking a flock of migrating Canadian geese. The media zeroed in on the human-interest aspect of the story; all flight personnel and passengers were safely evacuated from the plane thanks to the heroic efforts of the pilot in command. The fact that a $36 million aircraft was destroyed and that wildlife hazards relating to aviation have increased over the past several years were given little — if any — attention.
The Federal Aviation Administration (FAA) has maintained a Wildlife Strike Database since 1990, recording more than 121,000 reported wildlife strikes involving aircraft through 2010. The FAA attributes that large number to increased global air traffic and the presence of large natural habitats surrounding modern airports, among other things. As a result, systems such as the Bird Avoidance Model (BAM) and the Avian Hazard Advisory System (AHAS) are used to estimate bird strike risk in a particular area. These tools take information such as bird population and distribution, environmental and geographic data, and weather radar data to assess an aircraft's risk of facing a wildlife strike.
In addition to BAM and AHAS, many airports also hire consulting firms, such as Burns & McDonnell, with trained biologists and/or environmental scientists to perform Wildlife Hazard Assessments (WHAs). A WHA addresses the data utilized by BAM and AHAS, as well as information concerning wildlife surrounding the airport as observed by airport employees. An assessment will typically be performed over a period of 12 months, so that the assigned experts can gather information that allows for appropriate wildlife management strategies throughout each season. Based on the findings of the research, a Wildlife Hazard Management Plan (WHMP) is created for the airport.
The WHMP focuses on preventative measures an airport can take to avoid facing excessive risk of wildlife strikes. Experts from Burns & McDonnell have recommended actions as simple as adjusting mowing heights for vegetation surrounding the airport to the more complex task of covering stormwater detention ponds with floating gray or black balls to make areas around the airport less attractive to birds.
In conjunction with the risk assessment tools promoted by the FAA, preventative measures suggested as a result of a quality Wildlife Hazard Assessment can help man, beast and aircraft live harmoniously.
Image via Flickr.com/mccun934