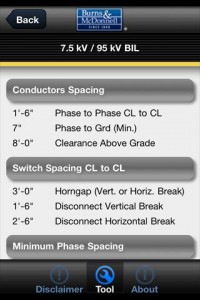 Everywhere we turn, it seems everyone has a smart phone. Because these increasingly intelligent mobile devices — and apps — are becoming important business tools, we created an engineering-focused app that's both intuitive and effective.
We're excited to announce that Burns & McDonnell's HV Spacings app received Apple approval and is now live in the app store! The app is also available on all Android phones version 2.2 and higher from the Android Marketplace.
The app builds upon the original T&D slide rule, unveiled in 2006. The second version was featured in our web-based T&D Toolkit, and now version 3.0 offers the ultimate productivity tool combined with the ease of mobile access.
Jeff Camden, substation department manager, worked with app developer Trabon Solutions to create an electrical engineer's dream — high-voltage clearance spacings within your reach after a quick download.
Once you have the app, you'll be able to identify recommended electrical clearances and spacings for high-voltage AC substations based on IEEE standard 1427. The app also features minimum corona-free conductor sizes and the typical quantity of bells for suspension insulator strings.
Because HV Spacings is a mobile app, you can access spacings while at work or in the field. And if you really want to impress someone, you can access real-time information after-hours. By having the spacings at your fingertips, you can improve your electrical substation designs, making this a "must-have" tool in your engineering toolkit.
And best of all? The HV Spacings app is free!
If you've downloaded the HV Spacings app, let us know you think and how you're using it! And we would love to have you leave a review of the app in the iTunes store or the Android marketplace.