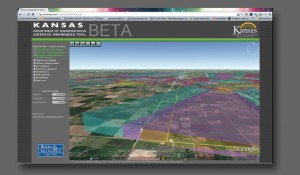 Kansas may not be known as a hotbed for innovation, but a snazzy new tool developed by the Kansas Department of Transportation (KDOT) that aims to make it easier for developers charged with navigating protected airspace is getting lots of attention.
Designed to protect the state's airspace from potential development obstructions, the tool aids in the safe placement of tall structures like water towers, cell towers and wind turbines — all of which could pose harm to aircraft and interfere with flight paths. The Federal Aviation Administration (FAA) requires advance notice of any proposed developments, but in the past when developers submitted their plans, it wasn't always clear if their site selection was in protected airspace. That's because airspace —which can be thought of as imaginary surfaces extending into the air around airports and along air travel routes — is quite complex.
KDOT's recently-launched Kansas Airspace Awareness Tool (KAAT) is the first tool of its kind. Just a month after being released publicly, it's gone global. People from 46 other states and six continents have accessed the tool that is currently only available in Kansas.
The KAAT makes it easier to understand the complicated airspace that surrounds Kansas airports using the Google Earth plug-in to map out these imaginary surfaces in color. Users can lay out obstructions on the 3-D map to determine if their development plans interfere with protected airspace before submitting their plans to the FAA. The new system eliminates the guesswork and simplifies the FAA's evaluation process.
Burns & McDonnell worked with KDOT to develop the software with a grant from the FAA. Our team of developers used innovative technologies to come up with a solution specific for KDOT, but that can be applied across the board — not only to other state transportation agencies, but to other industries as well.
Of course we think it's cool, but we're not alone. The project was nominated for a NASAO State Innovation Award, which recognizes innovative aviation programs that begin at the state level and have the potential to spread to other states, or be adopted by the federal government. The winner will be announced later this year. And Google thinks it's cool enough to feature as an example on its Google Earth plug-in site.
The KAAT is available for public use on KDOT's aviation website, so check it out. The beauty of the tool is that it simplifies complex information so that anyone can understand it. Even if you're not a developer or in to aviation, we think you'll like it!