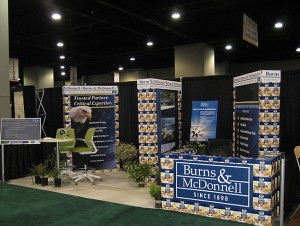 Thinking sustainably is something we do daily, both for ourselves and for our clients. So when it came to a recent trade show for our Aviation & Facilities (A&F) division, we challenged ourselves to produce a big impact, while also leaving a small footprint. The solution: constructing our exhibit booth almost entirely out of sustainable materials and locally sourced products. As a final element, it was our goal to build the booth out of packaged food that could be donated to local charities after the conference.
Our inspiration stemmed from our corporate commitments to not only minimize environmental impact but also give back to the communities where we live and work. Our work for the military and federal government has to meet strict Leadership in Energy and Environmental Design (LEED) standards, so the 2010 Society for American Military Engineers (SAME) conference was the obvious choice to debut the green booth.
A group of our own architects who specialize in sustainable design came up with the design concept. This involved calculating exactly how much and what type of food products were necessary to build an exhibit that could bear the weight of graphical displays, while also maintaining its structural integrity throughout the show.
The result — a booth made of 2,138 pounds of packaged food. Even more exciting, the food provided 24,750 meals for local families after the show.
The overall booth was constructed with sustainable products, such as carpet tile made from post-consumer recycled yarn and Cradle-to-Cradle certified tables and seating. Partnering with local organizations for the majority of resources required minimal transportation. As an added bonus, eliminating lighting and video display screens in the booth resulted in a 200-pound net reduction in carbon dioxide emissions from avoided energy use.
The reach of the green booth was far and wide. After a successful exhibit at SAME, our A&F team reconstructed similar booths at three other trade shows throughout the country, donating more than 7,000 pounds of food and more than 80,000 meals for families in Atlanta, Pittsburg and Miami.
When it comes down to it, trade shows are about more than making business connections. It's about being part of something bigger and making an impact on local communities.
What innovative, sustainable things have you seen or been a part of at trade shows?