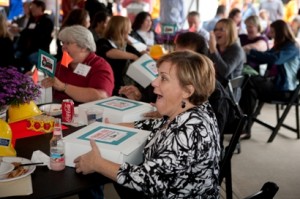 Everybody knows that teachers love apples. And the Battle of the Brains Competition, an initiative by the Burns & McDonnell Foundation designed to inspire Kansas City area students to build a strong foundation of STEM (science, technology, engineering and math) knowledge, is relying on the passion of teachers to help make the initiative a success. Who doesn't love teachers?
We especially love teachers who are as passionate about STEM education as we are. So it only seemed fitting to show our appreciation by presenting a group of very special Kansas City-area teachers with the sweetest apple of all — an Apple iPad 2.
The lucky teachers are all participating in the Burns & McDonnell Battle of the Brains competition, which is all about the future. STEM education is the future — and a vital piece in the ongoing effort to maintain America's tradition of ingenuity and inspiration. The U.S. Labor Department projects that by 2014, 15 of the 20 fastest growing occupations will be in math- and science-related fields.
More than 170 schools have already signed up to participate in the Battle of the Brains competition and 20 area schools will earn a piece of a $130,000-plus grant for STEM education. How? By designing the next great exhibit for Science City. The contest will engage the minds of Kansas City-area students, encourage STEM education in area schools and play a major role in Science City's ongoing rejuvenation.
We can't wait to see the ideas these students come up with during the contest, and we're even more excited to witness the effect these grants could have on STEM education in our schools.
Our gift pales in comparison to the value teachers provide. But it sure was rewarding — and quite emotional — to see their expressions as they opened their "apple pies." Check it out — you'll see what we mean.
One of our favorite comments came from a teacher in the Raytown School District who said: "Still overwhelmed by the generosity and appreciation of your gift to us tonight! Thank YOU! It makes not getting a raise in years, the OVERTIME to raise state test scores, and all the hardships WORTH it ... not to just get the "gift" but to feel like we are worth that kind of generosity! WOW!!!"
And all of us at Burns & McDonnell say, with love and gratitude to great teachers everywhere: Thank YOU for making a difference in our kids' lives, and accept our heartfelt appreciation for all you do.