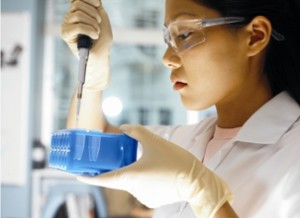 Regenerative medicine — the process of recreating human cells, tissues and organs that have been damaged and restoring them to their normal function — represents a multibillion-dollar industry. The Food & Drug Administration established recommended guidelines — known as current Good Manufacturing Practices (cGMP) and current Good Tissue Practices (cGTP) — to ensure regenerative therapy products are manufactured using a safe, controlled and auditable process. Facility design plays a crucial role in making that happen.
In short, cGMP and cGTP guidelines are focused on producing quality products and preventing contamination, including infectious disease contamination during the manufacturing process. As might be expected, interpreting and executing the guidelines can be quite complex. And with human life at stake, there is no margin for error.
In a presentation to the Midwest Chapter of ISPE — the International Society for Pharmaceutical Engineering — Dr. Kris Chatrathi from our Pharmaceutical Services Group presented an in-depth look at the design of tissue-processing facilities, including lessons learned on air change ratios, flow of people and material, and engineering/architectural elements that affect cGMP and cGTP design.
Dr. Chatrathi shared a case study on using computational fluid dynamics (CFD) analysis to evaluate clean rooms — areas where pharmaceutical and biologic products are prepared, processed and packaged. CFD is a computer-generated calculation that predicts the flow of fluids, and in this case, the airflow in a clean room. It allows engineers to anticipate weak areas of a design and make recommendations for corrections. One benefit is that it allows for the comparison of several design options in a short timeframe.
The objective of one example he shared was to understand the impact of equipment installed near return ducts in a production room and determine if the airflow affected highly clean work areas. Using CFD to simulate airflow, specifically the airflow environment near bio-safety cabinets, a team of engineers identified improvements in the room's design. The evaluation allowed reconfiguration of the clean rooms and a higher confidence in meeting cGMP requirements.
To learn more about complexities of cGMP and cGTP design, view a condensed version of Dr. Chatrathi's presentation below.
Still want more? Connect with Dr. Chatrathi on LinkedIn, join the ISPE Midwest Chapter's Group on LinkedIn, or connect directly to any of our pharmaceutical engineers. You can also leave a comment here if this is a study that interests you. We welcome your feedback.