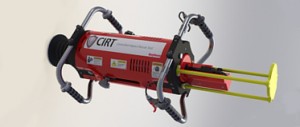 A new tool now gives rescuers and first responders the ability to cut through concrete, a huge advancement that bolsters rescue efforts after large-scale natural disasters such as earthquakes, tsunamis and tornadoes.
Developed by the U.S. Department of Homeland Security, the Controlled Impact Rescue Tool (CIRT) "uses blank ammunition cartridges to drive a piston that generates a high-energy jolt to create a contained hole in the concrete," according to a story on MSNBC.com.
By making several of these holes, rescuers and emergency workers can then create an opening through which they can pass supplies, food and medication as debris is cleared.
The tool represents a much-needed advancement in rescue operations. During previous post-disaster relief efforts, tools like drills, saws and jackhammers were unable to breach reinforced concrete. Now, however, the CIRT can not only cut through concrete with speed and precision, but "the force generated by the CIRT is concentrated in a localized area," which "minimizes the threat to the safety of survivors and the potential destabilization of the surrounding structure," according to DHS.
In August, a demonstration of the tool showed the CIRT cutting an 18-inch diameter hole through a 6-inch slab of reinforced concrete. The process took less than 3.5 minutes, according to MSNBC.com.
Six tools have been distributed to FEMA workers. The DHS Science and Technology Directorate is also planning to distribute CIRT units to municipal search and rescue teams in several cities, including Cincinnati, Los Angeles, Seattle and Virginia Beach.
The CIRT is manufactured by Massachusetts-based Raytheon, which also served as S&T's research partner throughout the project. The CIRT joins a growing list of high-tech tools created for disaster response operations, including a fleet of robots that were dispatched to Japan following a devastating earthquake that occurred earlier this year.
Image via Raytheon