Our Battle of the Brains winners were unveiled during a festive celebration at Kansas City landmark Union Station, home of Science City, which served as the focal point for the BOTB challenge.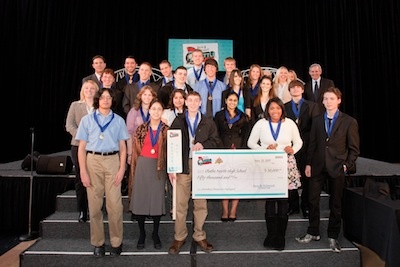 More than 2,500 students from 128 schools in 35 school districts throughout the metropolitan area participated in Battle of the Brains, a partnership between the Burns & McDonnell Foundation and Union Station's Science City to encourage community investment in STEM (science, technology, engineering and math) education.
During Battle of the Brains, area schools submitted proposals for a new Science City exhibit. Olathe North High School's "Unplugged" took home the grand prize and will be constructed at Science City next spring. The exhibit will allow visitors to experience how energy powers the world through interactive displays that demonstrate how mechanical power is transformed into energy. While visitors are moving, watching and playing, they will also be learning about the fundamentals of light and sound. In addition to having the exhibit built, Olathe North also receives a $50,000 grant to support STEM education.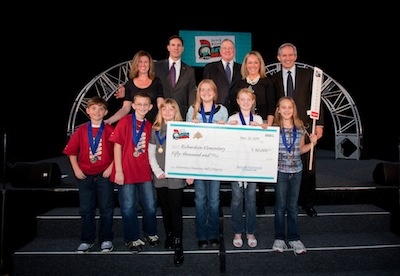 Richardson Elementary won the elementary school division, and will also receive a $50,000 grant. The Richardson team created a proposal called "Hall of Magnets," in which visitors would experience interactive fun by playing with magnets and reach far beyond the concepts of attract and repel.
Four finalists — two in the secondary division, two in the elementary division — each received $5,000 in runner-up prizes. They include:
The remaining 14 finalists each received $2,500 to help fund STEM education. Burns & McDonnell CEO Greg Graves announced that he was increasing the base prize from $1,000 to $2,500 after reviewing all of the proposals and seeing all of the students' hard work. Finalists included:
Bug Street (Pleasant Lea Elementary, Lee's Summit School District)
Different Experiences, Parallel Lives (Leawood Elementary, Blue Valley School District)
Digest Quest (Woodland Elementary, Lee's Summit School District)
Energy Remix (Leawood Elementary, Blue Valley School District)
Navigating the Air: An Aeronautic Adventure (Red Bridge Elementary, Center School District)
The Space Place (Cordill Mason Elementary, Blue Springs School District)
The Tornado Experience (Fleetridge Elementary, Raytown School District)
Big Bang and Beyond (Turner High School)
City Imagineerium (LEARN Science & Math Club, Home School)
Elements of Modern Living and Power (Olathe East High School)
Forces of Nature (Belton High School)
Magnetic Science and Technologies (Olathe East High School)
Taking Flight (Shawnee Mission South High School)
Water Extravaganza (Lansing High School)
The energy at the final ceremony proved infectious, a culmination of an ongoing show of support from area students and educators.
"The level of excitement and enthusiasm from supporters of all the final 20 entries was just amazing," says Melissa Lavin-Hickey, director of the Burns & McDonnell Foundation. "Each of the top 20 finalists' projects were outstanding and the totals were all very close. We of course want to thank everyone involved with this project but especially the teachers and students who participated."
Once the proposals were submitted in October, winners were chosen from a field of 20 finalists determined in a judging round conducted by experts from Science City and Burns & McDonnell. The judges' rankings comprised 70 percent of the final rankings, and the remaining 30 percent of the final rankings was determined by a public vote from November 11-18.
Congratulations to all who were involved with Battle of the Brains! We can't wait to see "Unplugged" come to life!