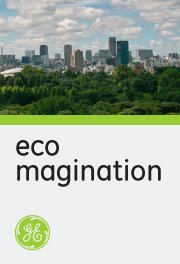 GE's Ecomagination Challenge isn't just an exercise in sustainable innovation. The program also demonstrates GE's commitment to entrepreneurs and the brilliant ideas needed to fuel progress.
As Andrew Winston wrote for a Harvard Business Review blog post, the challenge grew out of a surprising admission from GE executives.
"We're looking for new models of innovation. We don't have all the answers or all the capabilities," said Beth Comstock, GE's chief marketing officer and senior vice president.
Those statements may seem initially surprising. After all, GE is a huge corporation with the staff and funding to explore a variety of ideas and initiatives. Yet the company has also realized that, from time to time, the best ideas may come from elsewhere — and they may originate from smaller entities or even individuals who are equally invested in sustainability and innovation.
GE's Ecomagination Challenge began in 2010, when organizers put out a call for ideas about powering the grid. The challenge expanded to encompass the theme of powering your home. As Winston writes, GE received 5,000 business plans in 12 months, an impressive number given the newness of the program — and a testament to the effectiveness of contests and promotions when considering future strategies.
This year's winners were announced in June, and include renewable energy for developing countries, smart meter analysis, solar windows, climate control systems and noiseless, green refrigeration systems.
The challenge has already proven so successful that GE has made the program a permanent part of its corporate structure.
"The challenge will now be an established platform at GE; a new innovation group will commit up to $20 million for scaling and commercialization with innovators uncovered through the Challenge," according to a company release. "In addition, GE and Carbon Trust will introduce a $5 million seed funding initiative in the UK and GE will also launch a region-specific Ecomagination Challenge in China soon."
We applaud GE and the companies who have followed in its footsteps. Our communities are a little-tapped resource of feedback and ideas that help shape the future — and change the way that all of us do business. It's the importance of that sort of community investment that inspired us to create the Battle of the Brains challenge in Kansas City, part of our ongoing commitment to local youth and STEM education.
We're eager to see what future iterations of the Ecomagination Challenge bring to GE, its products and its processes. Inspiration truly is all around, and it's time for all of us to tap into this powerful resource.
Image via GE