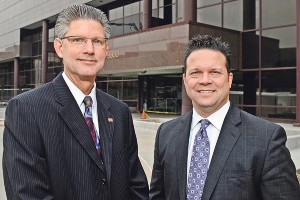 The demand for both water and transportation projects in the U.S. is on the rise. The team at Burns & McDonnell recognizes the urgent, growing need for investment in our national infrastructure. As a result, we're excited to announce that effective January 1, we'll split our current Infrastructure Group into two separate divisions — one focused on water and the other on surface transportation.
Water was one of the two core businesses upon which Burns & McDonnell was founded. In 1901, we landed our first job in Iola, Kan. — a combined water and light plant that burned coal to make electric power to supply clean and affordable water.
Our focus on surface transportation came much later, but designing safe roads, bridges and highways has played an integral role in defining our company today.
"The need for infrastructure investment in all parts of our country is now reaching critical urgency," said Burns & McDonnell Chairman and CEO Greg Graves. "Creating these two divisions now positions Burns & McDonnell to provide resources to our clients as they focus on the dire needs and challenges of bringing our water infrastructure and roads and bridges up to the standards required in the 21st Century."
Ron Coker, vice president, will assume the role of general manager of the Water Group, which provides a broad range of services including master planning, engineering design, procurement and construction services for water transmission and distribution, wastewater collection, watershed and aquifer management, wastewater treatment and drinking water facilities.
Ben Biller, vice president, will lead the Surface Transportation Group as general manager. The group provides a full scope of engineering, design, permitting and right of way, procurement and construction management for highways, roads and bridges.
We're excited about what this restructuring means for our company, but most importantly, what it means to our clients. Not only can we continue advocating for clean water and safe roads and bridges, we can also more effectively deliver the array of services to make infrastructure investments better, faster and for less cost — the trifecta our clients are looking for.