Exciting changes are on tap for Science City at Union Station next year — thanks in part to a $1 million -plus grant from the Burns & McDonnell Foundation — and you have a chance to get a sneak peak at what's coming. Tune in to "The Local Show" on KCPT today for "Brain Power," an intimate conversation about the future of Science City with Burns & McDonnell CEO Greg Graves and Union Station CEO George Guastello.
"There are a number of outstanding science centers, and the most successful have become established as both a meaningful educational resource and an inviting tourist attraction," said George. "This gift from Burns & McDonnell will help us move Science City at Union Station into that category. We believe it will be an outstanding attraction and a valuable resource for educators in our region."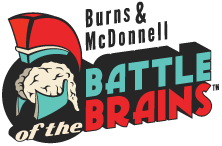 The centerpiece, and one of the most highly anticipated changes coming to the new Science City, is an exhibit designed by students at Olathe North High School as part of the Battle of the Brains competition. The winning exhibit — Unplugged — will allow visitors to experience how energy powers the world through interactive displays that demonstrate how mechanical power is transformed into various forms of energy. While visitors are moving, watching and playing, they also will be learning about the fundamentals of light and sound.
Unplugged was selected as the grand prize winner among more than 560 entries from 128 area schools and 2,500 students that participated in the Battle of the Brains competition. In addition to seeing their exhibit built at Science City next spring, Olathe North High School, and the elementary division winner — Richardson Elementary's Hall of Magnets — each won $50,000 to be used toward furthering science, technology, engineering and math, or STEM, education at their schools.
Unplugged is one of several new exhibits you can expect at Science City next year. Several other changes are also in store that will put Science City in the running to become the premier science center in the region, including Science On a Sphere — an interactive 3-D exhibit developed by NOAA to illustrate the various elements of Earth Systems Science — and an expanded Engineerium — a hands-on learning laboratory that invites K-12 students to explore the worlds of robotics and engineering.
We're thrilled to be part of Science City's rejuvenation, but more important, we're excited to share our love of learning with the community and have a positive impact on children's interest in science.
"The Local Show" will air at 7:30 p.m. on Thursday, December 15. If you miss it, check kcpt.org for repeat airings and an online episode.