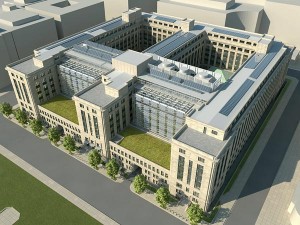 President Obama recently released a presidential memorandum that implements a $2 billion plan to improve the energy efficiency of federal buildings. It's a move that will not only help these older structures become more efficient and less costly to operate but is also expected to be a catalyst for new job creation.
"Upgrading the energy efficiency of America's buildings is one of the fastest, easiest and cheapest ways to save money, cut down on harmful pollution and create good jobs right now," Obama said in prepared remarks that appeared in a Government Executive article. "Coupled with today's extraordinary private sector commitments of $2 billion to upgrade businesses, factories and military housing, America is taking another big step toward the competitive, clean energy economy it will take to win the future."
In addition to the plan to upgrade federal buildings, another $2 billion program aimed at the private sector is intended to modernize commercial and industrial properties. The paired effort is supported by President Obama, former President Clinton and Chamber of Commerce President Thomas Donahue, among others.
Taxpayers will not assume any upfront costs for the federal plan. Instead, the plan is expected to be paid for through energy cost savings.
According to Government Executive, the government is expected to tap the expertise of private energy services contractors "whose progress will be tracked with 'transparency' on government websites." A case study cited by Government Executive is Charleston Air Force base, which recently underwent a replacement of its aging heating and cooling equipment. The resulting energy savings paid for the project, and the base's upgraded HVAC system now saves $2.6 million a year.
Under the memorandum, executive departments and agencies are tasked with evaluating their facilities, identifying potential savings and appropriately leveraging a combination of public and private sector funding that will be used to invest in comprehensive energy conservation projects. Agencies have until Jan. 31, 2012, to report their planned implementation schedules.
Image via GSA