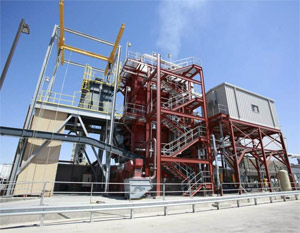 When Frito-Lay's food processing plant in Casa Grande, Ariz., first opened in 1984, it was a model for energy conservation. In fact, Food Engineering magazine named it Plant of the Year in 1985. Fast forward 26 years, and the Casa Grande plant has once again become a model for sustainability. The plant is one of the first of its kind to attempt resource neutrality — consuming no more resources (water, gas, electricity, etc.) than it generates. Ambitious? Indeed. Impossible? Not quite.
Through its near net-zero initiative, Frito-Lay's vision was to take the Casa Grande facility "off the grid" to the extent possible. The company implemented several resource-saving measures — things like solar concentrators, water-reduction technologies, and a biomass boiler plant that produces heat and electricity using biofuels. In addition, nearly every piece of waste generated in the facility will be reused or recycled in some way.
Part of the reason for their success? That's simple — a commitment to things that are right for business and right for the environment. "As a company that relies on key natural resources like water and fuel, Frito-Lay has developed strategies to ensure our business remains sustainable, even if there are constraints on those resources," Al Carey, past CEO and president, Frito-Lay North America, said in a recent company news release.
The result? The plant is an example of that intersection of business innovation and sustainability — and is now operating at near net zero. Water use was cut in half — and 75 percent of water used in the facility is now recycled. Natural gas use has declined 80 percent, attributable to a 60,000 pound per hour biomass boiler. Now, less than 1 percent of the plant's waste is sent to landfills — instead being recycled or reclaimed — compared to 14 percent when the initiative began.
The Casa Grande plant has once again earned accolades from Food Engineering, this time as Sustainable Plant of the Year for 2011. It was also selected by the American Council of Engineering Companies (ACEC) of Arizona as one of the 2011 Engineering Excellence Award Winners.
Its "near net zero" status is an accomplishment in itself, but Frito-Lay plans to keep looking for ways to reduce its carbon footprint further, getting closer to resource neutrality.