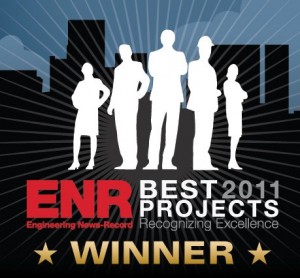 Engineering-News Record recently released its list of the best engineering projects for 2011. Naturally, we were excited to see the list, as it represents excellence in design and construction.
The winners — as determined by a panel of our industry's finest — were selected from a pool of regional winners based on several criteria: safety, innovation, contribution to the industry/community, aesthetics, functionality, quality and craftsmanship. The award is a testament to the hours of hard work and dedication that the engineering and construction teams devote to a project.
Without further ado, here is the list of ENR's Best of the Best for 2011.
Best Civil Works/Infrastructure – Inner Harbor Navigation Canal Floodwall, New Orleans; submitted by Traylor-Massman-Weeks LLC
Best Cultural/Worship – DiMenna Center for Classical Music, New York; submitted by H3 Hardy Collaboration Architecture
Best Government/Public Building – Chandler City Hall, Chandler, Ariz.; submitted by Sundt Construction Inc.
Best Green Building – Facebook Data Center, Prineville, Ore.; submitted by Facebook
Best Health Care – Helen DeVos Children's Hospital, Grand Rapids, Mich.; submitted by Turner Construction Co.
Best Higher Education/Research – Kravis Center-Claremont McKenna College, Claremont, Calif.; submitted by Bernards
Best Industrial/Manufacturing – Merck VBF, Durham, N.C.; submitted by Merck
Best Interior Design/Tenant Improvement – BP Bright Lights, Chicago; submitted by Lend Lease (formerly Bovis Lend Lease)
Best K-12 Education – Casey Middle School, Boulder, Colo.; submitted by Weifield Group Contracting
Best Landscape/Hardscape/Urban Development – Wilmington Waterfront Park, Wilmington, Calif./Los Angeles; submitted by Sasaki Associates Inc.
Best Multi-Family Residential/Hospitality – Montage Deer Valley, Park City, Utah; submitted by Layton Construction Co. Inc.
Best Office – United States Institute of Peace (USIP) Headquarters and Global Peacebuilding Center (GPC), Washington, D.C.; submitted by Clark Construction Group LLC
Best Renovation/Restoration – Jackson Barracks Historical Renovation, New Orleans; submitted by Satterfield & Pontikes Construction Group LLC
Best Retail/Mixed-Use Developments – Square 54, Washington, D.C.; submitted by Clark Construction Group LLC
Best Small Project – St. Mary's Catholic Church Expansion and Addition, Plantersville, Texas; submitted by Fretz Construction Co.
Best Specialty Contracting – MCFM Solar Thermal Installations, Phoenix; submitted by Builders Guild Inc.
Best Sports/Entertainment – Jeld-Wen Field, Portland, Ore.; submitted by Turner Construction
Best Transportation – Harbor Drive Pedestrian Bridge, San Diego; submitted by T.Y. Lin International
We know good engineering when we see it, and the winners in each category are well-deserving of this honor. Look for a profile of all the finalists in the Feb. 13 issue of ENR magazine, and find out which project will earn the Editor's Choice Award — the best of the Best of the Best.
Congratulations to all the winners!