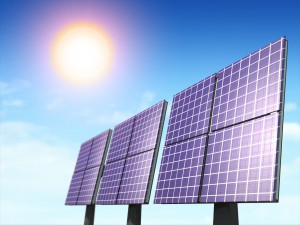 Denver International Airport recently completed a large solar-powered energy system that generates more solar power than any other commercial airport in the country — and other airports are following suit. The availability of land, the electrical infrastructure of airports and the increased demand for renewable energy make airports ideal candidates for solar improvements. In particular, photovoltaic solar systems (PV systems) — which can capture 90 percent of the sun's rays and convert it to electricity — have become a popular source of energy generation at airports.
Why? For starters, airports have extensive sun exposure, a high demand for on-site energy, and generally, a lot of wide open spaces that, because of airspace restrictions, are otherwise undevelopable for anything of significant height. Ground-mounted solar systems can be safely installed in these open spaces — like the approach zone — without interfering with air navigation. Existing airport facilities — like terminals and hangars — offer significant space for large roof-mounted solar systems, and parking lots are an ideal location for solar parking shade structures.
For states with high power rates and good incentives, like California, investments in PV systems and other renewable energy projects make financial and environmental sense.
Through its VALE (Voluntary Airport Low Emissions) grant program, the FAA provides funding to airports in air quality nonattainment and maintenance areas — or areas that have experienced ongoing air quality problems — as designated by the EPA. Grant recipient airports can use the funding on anything to reduce emissions, ranging from low-emission vehicles to major infrastructure improvements, including the addition of PV systems. Both Albuquerque International Sunport and Manchester-Boston Regional Airport have added solar systems to their airport campuses using VALE grant funding, and Oakland International Airport and San Diego International Airport recently received VALE funding for airport improvement projects. Once online, the renovation of Lindberg Terminal Two at San Diego International Airport will generate 10 to 15 percent of its energy from solar power.
PV systems can also be financed by outside investment firms. Through power purchase agreements (PPA), a third party constructs, operates and maintains a PV project on land leased from the airport. The energy generated from the PV system can be used to offset on-airport demand and can provide guaranteed lower long-term electric rates. This represents a public commitment by the airport to go green, with no capital expense and can create an additional source of revenue for the airport. Fresno Yosemite International Airport is an excellent example of this. Through a 20-year PPA with Solar Power Partners and an incentive from the California Public Utility Commission, the Fresno Airport installed a solar farm without any public funding. It now provides up 60 percent of the airport's power.
Burns & McDonnell has extensive experience in airport sustainability initiatives and renewable energy projects, and we're excited to expand this service to the Southern California region. Want to learn more about how we can help with your solar projects, by supporting VALE grant applications and third-party funding, earning clean air credits from the local air quality administration, and more? Connect with Keith Owens on LinkedIn.