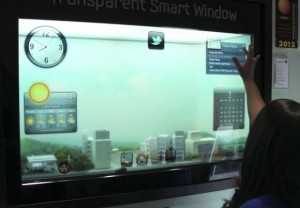 A number of nifty, useful and downright cool tech gadgets were unveiled during this year's Consumer Electronics Show, but none of them captured our attention like Samsung's Smart Window.
At first glance, the Smart Window is, well, a window. Yet look deeper, and you'll find the device is actually a 22-inch LCD flat screen with a 1680 x 1050 resolution and 500:1 contrast ratio that lets you look outside while also accessing a variety of widgets including daily weather updates, Twitter, videos and more. Think of it as a window merged with a tablet to create a powerful hybrid that's as sleek as it is functional.
The window's digital blinds are one of our favorite features. If you need a reprieve from the bright sunlight, or simply a bit of privacy, touch the blinds widget on the main screen and adjust them with a quick swipe of your finger. Watch the video below for a demonstration of the window, led by Mobile Nation's Ashley Esqueda.
Many have been calling the window a device you'd see in a movie like Minority Report. There's no doubt that Samsung has elevated the future of technology, incorporating computer-like functionality into a common household feature (windows) that results in a cutting-edge device.
Oh, and a quick note? In case you're worried about security and/or privacy, rest assured that the Smart Window is one-sided, so someone outside can't see what you're looking at on the window.
The Smart Window is expected to go into production later this year, so look for it soon in a home near you. The window's capabilities also make it an ideal addition to an office, allowing you to access Microsoft Office tools, stay up with your social networks and even check the status of your upcoming flight.
No information is available regarding the window's price, although we bet it's not cheap. Still, if you're an early adopter who can't get enough of the latest technology, it may be worth the investment.
Will you be adding Samsung's Smart Window to your list of must-have gadgets? Or is the technology a little too advanced for your liking?