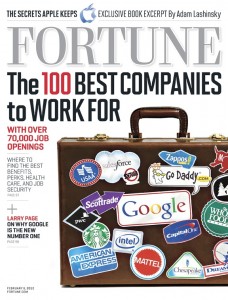 FORTUNE magazine announced its "100 Best Companies to Work For" yesterday, and Burns & McDonnell made the cut! We are honored — not to mention thrilled — to be recognized on such a prestigious list, among the likes of Google, Whole Foods, Zappos and Microsoft.
We debuted on the list at number 50 in 2009, and have jumped in the rankings this year, re-entering the list at number 26. There are many things that make this a great place to work, but we attribute this honor specifically to our employees, our culture and our leadership.
"As an employee-owned firm, everyone shares in the rewards that come from success," says our CEO Greg Graves. "That is a tremendous motivating factor that we believe is the key reason for our success. Everyone understands that everyone is responsible for satisfying clients because they have a personal stake in our clients' success."
Each year, FORTUNE magazine partners with the Great Place to Work Institute Inc. to select the most desirable workplaces in the country. The selection process includes two parts. The results from an extensive employee survey that measures levels of trust, pride and camaraderie within the workplace counts for two-thirds of the score. More than 246,000 employees from 280 companies responded to the survey. The other one-third of the scoring is based on the company's responses to a culture audit, which includes detailed questions about the company's business environment, hiring and onboarding methodologies, communication practices, development and motivation of employees, and community involvement.
We've been recognized as a best place to work locally and regionally many times, but this one takes the cake. Once again, we owe a great deal of gratitude to our employees. So thanks to all 3,000+ of you, and congratulations!
And congratulations to all the other 99 companies on the list. We are honored to be in such good company!