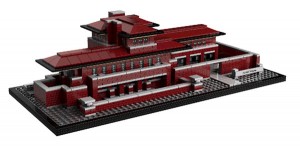 If you're an architecture buff, you may want to think about picking up a few Lego sets. The iconic toy manufacturer began creating architecture sets in 2006, and since then, the line has grown to encompass such architectural marvels as the Willis Tower (formerly the Sears Tower), Seattle's Space Needle and the Empire State Building, as well as the White House and Frank Lloyd Wright's Fallingwater home.
Adam Reed Tucker lives in Chicago suburb Arlington Heights and is the force behind Lego's architectural sets. Formerly a designer of high-end homes, Tucker now designs the Lego renditions of renowned buildings and structures. He's created 11 sets so far, including a 546-piece replica of Mies van der Rohe's Farnsworth House and a 208-piece version of the Guggenheim Museum. One of his latest works, according to a Chicago Tribune story, is "an extraordinary Lego replica" of Wright's instantly recognizable Robie House — Tucker's "biggest, most ambitious set yet," as Christopher Borelli writes.
Lego's architectural series is more than a way to preserve some of the world's most impressive structural works. The sets have brought new life — and a larger audience — to the famed brand.
"The pieces are pricey, serious, intensely complex and sold to teenagers and tourists — though, as a Lego executive told me, 'many are bought by 45-year-old architects who put them on their office shelves,'" writes Borelli.
Lego bricks may encourage the seemingly limitless potential of imagination, but when it comes to recreating some of the world's great architectural works, even Lego bricks have their limits. For example, don't expect to see the St. Louis Arch as part of the series.
"The Gateway Arch in St. Louis, though, was deemed unbrickable," Borelli writes. "No compromise could be found. The trouble with his arch was that, to capture its bend, he put stress on the bricks. It would deform the bricks, and a Lego rule stipulates that all bricks should lock effortlessly with other bricks."
Still, despite obstacles, there's no denying that Tucker has reinvented his architectural career, not to mention redefining iconic architecture in ways that make these structural marvels accessible to a wider audience and brings a new appreciation to the industry.
And that's the sort of innovative thinking that can be celebrated in any industry — although, we admit we have a special interest in anything relating to architecture, not to mention the engineering marvel that is the small yet sturdy Lego brick.
Are you a Lego fan? And if so, have you added any of the architecture sets to your collection? We'd love to hear your recommendations in the comments!
Image via Lego