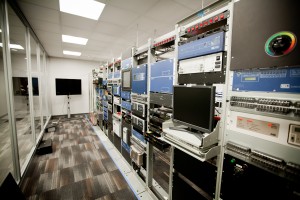 Just last week Burns & McDonnell dedicated its new Smart Grid Lab, an event that marked a milestone in our continued work to embrace the functionalities available on the Smart Grid—and help our clients do the same.
Need a refresher on the Smart Grid? In short, it's the evolution of our nation's electric grid from a centralized, controlled network to one that is more automated and consumer-interactive. Driven by the need for increased energy efficiency and reliability, the Smart Grid provides a way to monitor energy usage and find sustainable solutions for a more secure power grid.
Our Smart Grid lab will better enable us to help clients prepare for an electrical system that is cleaner, more efficient and more reliable. The lab is intended to demonstrate how advanced information technologies can be integrated with power delivery equipment as the industry moves toward this highly automated, self-healing distribution system. It allows clients the opportunity to explore new concepts in a safe testing environment, and gives our engineers direct, hands-on experience with the technology used for grid modernization. We can test configurations and demonstrate solutions, allowing us to more accurately answer the "what if" questions we often get from clients. You can learn more about our approach to the Smart Grid here.
Burns & McDonnell's original Smart Grid lab was built in 2007. The expansion and upgrade includes 600 square feet of dedicated space equipped with more than $1 million in state-of-the-art diagnostics and testing equipment. The lab is capable of simulating two complete substations and varying power conditions, and also enables interoperability testing between multiple vendors.
One of the things we like most about the Smart Grid lab is the ability to track renewable energy production at our World Headquarters, and how it compares to total energy consumption via real-time graphs, as seen in the pictures below. This is just one example of the lab's capabilities; the facility offers a number of other features and data-collection methods that allow us to explore solutions that are as cutting-edge, efficient and sustainable as the Smart Grid itself.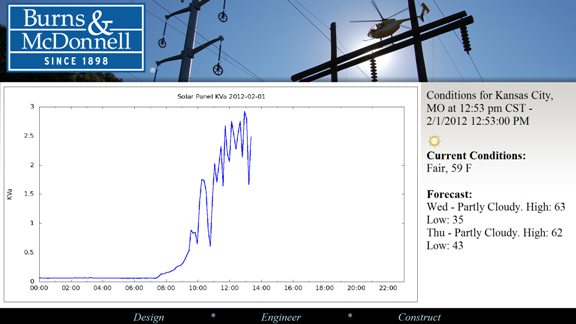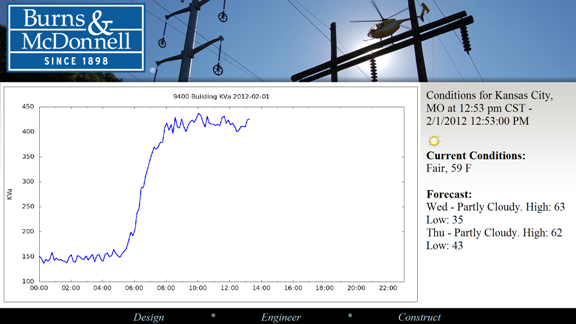 Keeping up with constantly evolving technology is never easy, but our new Smart Grid Lab makes it much easier to not only understand but also maximize opportunities presented by the Smart Grid. The future holds exciting possibilities when it comes to energy management, usage and consumption, some of which may just originate from within our Smart Grid lab.