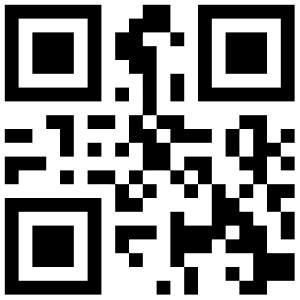 QR codes are undoubtedly one of the hottest new marketing tools, and when presented in conjunction with traditional swag and promotional materials at trade shows, can help you leave a lasting impression — and make it easy for prospective clients, customers and connections to find you again.
Let's look at some creative ways you can use QR codes at trade shows, conferences and other professional events. First? A crash course in all things QR.
What Are QR Codes?
A QR, or quick response, code is typically a square-shaped, high-contrast barcode that can be scanned with a smartphone. Once a QR code is scanned, the user is taken to a website — typically a mobile version of a website, a landing page, contact information or purchase details — depending on the goal of the campaign. For example, if you're selling a product, it makes sense that your QR code would direct users to a web page from which they can buy your product, or at least learn more. Specific goals may differ depending on the company, brand or individual that's using the QR code, but in the vast majority of cases, the general purpose of the code is to inspire further action.
If you stay up-to-date with marketing news, you might have read that QR codes have gotten a bad rap — or few users, anyway. This is usually attributed to poor use and implementation of the tools. For example, some companies opt to have elaborate QR codes designed that may include an image and/or a logo. Yet if the design is too complicated, the code won't scan, which defeats its purpose. They may also be too small (a common problem) or placed in an inconvenient location, such as on a billboard or a vehicle. Keep in mind, too, that older smartphones may not be as adept at scanning and/or reading QR codes, so consider them to be one tool in your marketing strategy rather than the end-all, be-all of your promotional efforts.
When used correctly, QR codes can help boost traffic to your website, raise brand awareness and act as a networking facilitator — perfect if you have a trade show or conference in your near future.
Creative Ways to Use QR Codes at a Trade Show
Before you start slapping a QR code on your business card or promotional items you'll have at the trade show, stop and consider your strategy. Your primary question: What do you want to accomplish? Some other things to consider include who you're representing — are you promoting yourself or your company? What types of materials are you taking with you? And once you've established your goal, you can decide where the QR code will lead. Do you want to point users to a mobile version of your website? A specific landing page designed just for QR code users? Or elsewhere?
Now that you've covered the basics, try some of these ideas to put your QR code to work at your next event.
*Skip the brochures. Instead of sending booth visitors away with a bunch of paper, set up a large sign with a QR code that they can scan to receive electronic copies of your information via email. As Sarah Baker of MarketingProfs writes, "QR codes are a great solution for marketers because your materials will escape the clutter of the trade show bag and make their way into your prospects' email inboxes, all the while helping you cut down on the cost of printing and transporting sales sheets."
*Promote your event. If you're speaking at a trade show or sponsoring an event, ask the show organizers if you can include a QR code in event signage or in the show's program. That way, you can give attendees an additional way to access more information about you and your company without necessarily connecting in person.
*Tap your inner creativity. Sure, QR codes are business tools, but that doesn't mean you can't have some fun. Have a T-shirt designed with a large QR code on the back — consider yourself a walking billboard, not to mention an instant conversation starter! The only caveat? Thoroughly test your code before you go. You'll want to make sure that it can be scanned on fabric.
Or tie your QR code into a promotion. On the materials that contain your code, state that you're giving away a prize to someone who scans the QR code. You can set up a promotion-specific landing page to act as the code's gateway, and by incentivizing the experience, you'll likely have more people who choose to scan the code. After all, who doesn't love winning?
As you prepare for your next event, take some time to consider incorporating QR codes into your networking and promotion strategies. These handy little tools can have a big impact when it comes to brand visibility and enlarging your reach.
If you've spied QR codes while you're at tradeshows or conferences, we'd love to hear your thoughts on how they're used and what's been effective — or not. Feel free to share your experience in the comments!