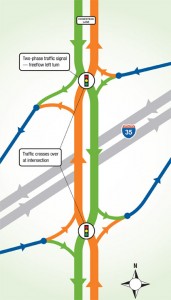 The diverging diamond interchange (DDI) is a relatively new — and undoubtedly unique — highway interchange concept starting to take shape around the country. While its design may seem complex at first glance, it essentially shifts traffic to the opposite side of the road. It's been shown to improve the safety and efficiency of traffic at highly traveled intersections.
Also known as the double crossover diamond, a DDI shifts the flow of traffic on a non-interstate roadway to the opposite side of the road at each ramp intersection. Drivers approaching the first ramp intersection can either turn right or proceed through by shifting to the opposite side of the road. At the next intersection, drivers are free to make an unopposed left turn or continue through the intersection and cross back to the right side of the road. Sound confusing? Watch this animation to see how the DDI works.
The DDI originated in France, and the first one emerged in the States just a few years ago. Now there are at least a dozen others planned throughout the country, including one at the intersection of I-35 and Homestead Lane in Edgerton, Kan. Construction is scheduled to begin in March on the new I-35 SW Johnson County Interchange — the first DDI in Kansas — which will accommodate heavier traffic to and from the new BNSF intermodal facility that is scheduled to open next year.
The Kansas Department of Transportation anticipates that in the next 30 years, as many as 32,000 daily vehicle trips could pass through this intersection as a result of the industrial and commercial expansion in the area. A 2008 traffic study conducted by Burns & McDonnell determined that a DDI would be the best solution to manage the increased traffic in terms of both volume and vehicle size.
Among the biggest benefits is safety. A DDI eliminates the risk of left turns crossing opposing traffic, and all movements are controlled by traffic signals. Drivers also benefit from convenience: The I-35 SW Johnson County Interchange has the potential to cut driver delay by at least half. Other considerations would have resulted in over 130 seconds of delay versus a projected 40- to 60-second delay with a DDI. Even better, KDOT will save $10 million to $15 million versus other interchange configurations that could accommodate similar traffic volumes.
That's not to say a DDI isn't without challenges. Drivers in the U.S. are accustomed to driving on the right side of the road, so naturally when traffic shifts in the opposite direction, it can create apprehension. "It is different and will take some adjustments from drivers, but it is actually a much easier traffic flow," said project manager Steve Schmidt.
So what do you think? Is the diverging diamond interchange the next transportation breakthrough? We'd love to hear from you.