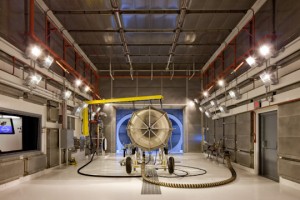 The Kansas City advertising community recently gathered for the annual ADDY awards, the nation's largest creative advertising competition. Local photographer Alistair Tutton won a Gold ADDY for his images of Burns & McDonnell's Jet Test Cell facility in Mississippi, which were also featured in Wired magazine.
"I've been entering projects in the local ADDYs for the past seven years and have achieved success at the local, regional and national level," Alistair says. "But this is the first award we've won for architectural imagery, which is an absolute testament to the exciting work that Burns & McDonnell does on each of its projects."
Alistair documented the Jet Engine Test Cell facility in Meridian, Miss., a U.S. Navy facility designed to mimic the conditions of flight so that jet turbines can be properly tested before being replicated and installed in a variety of Navy planes, including training jets.
At the center of the design-build project is an air-cooled jet engine test cell, complete with prefabricated run room, primary and secondary inlet air stacks, augmentor and exhaust stack.
The engines are tested using recreated sea-level environmental conditions. Data gathered from the tests is used to troubleshoot various problems that may arise in the engines.
Since Alistair's photos won at the local level, he'll move on with other winners to the district competition. From there, district winners will compete in the national awards ceremony.
"Kansas City represents one of the largest ADDY shows in the nation and, last year, took home the third highest number of national Golds," says Kevin Fullerton, AAF-Kansas City president. "There were close to 1,000 entries in this year's show and only the top 7 percent were awarded Gold ADDYs."
All of us at Burns & McDonnell would like to congratulate Alistair on his win. Best of luck to all of those in the district competition!