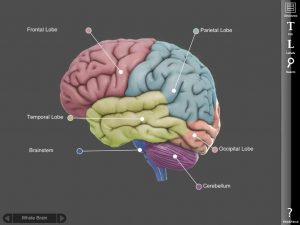 Tablet and mobile learning is growing at the speed of light. If you're interested in science and own an iPad, many science-related apps can put a wealth of knowledge at your fingertips. Whether you want to refresh your memory of the periodic table of the elements or journey to outer space without leaving your couch, there's an app for that.
Here are a few of our favorite science iPad apps.
Star Walk for iPad ($4.99): Star Walk has consistently been rated one of the best iPad apps available. Point your iPad at an area of the sky, and Star Walk will label the stars, constellations and satellites that appear in the specified area. You can also use the app's Time Machine to see what the sky will look like in the future (or how the sky appeared in the past). Picture of the Day shows amazing images from outer space, and a search function helps you locate stars, constellations or planets. Whether you're an astronomy amateur or expert, Star Walk is a must-have.
OnScreen DNA Model ($3.99): Want to learn more about the building blocks of the human body? The OnScreen DNA Model displays a model in 3D perspective to help you learn the basics of the structure. The model will rotate based on your touch, and the app also includes simulations of denaturation and renaturation, two important concepts in biotechnology.
3D Brain (free): Get an up-close and personal view of the brain. Learn about each region and how it functions, what happens if a region is injured and how a region is involved in mental illness. Each brain structure includes images, functions, case studies and links to research.
National Geographic World Atlas ($1.99): Ready to embark on an adventure? With the National Geographic World Atlas app, you can travel the globe — no passport or luggage required! Explore some of National Geographic's best, high-resolution maps, or interact with the app's 3D globe that can spin, pan, rotate and switch between three map styles. The app also includes a Flags and Facts database, and the ability to bookmark your favorite places with pins and notes.
Popular Science (free): Whether you're into science, engineering or both, you can follow along with the latest industry news using Popular Science's digital version. Not only will you get all of the content from the print magazine, but you'll have access to special iPad-only features including video and more. A free preview issue is available; subsequent issues are $4.99/each or $14.99 for a one-year subscription.
Seismograph (99 cents): No earthquake is required to make use of the Seismograph app, which measures everything around you that vibrates, shakes or moves. You can even jump up and down while holding your iPhone or iPad to measure the vibration generated from your movement.
Periodic Table of the Elements (free): This app may not be the most eye-catching on the list, but it's downright useful. You'll have a complete periodic table at your fingertips. Plus, you can choose a chemical attribute (atomic number, chemical family, melting point, state, etc.) and the chart will become color-coded to display how the elements vary given the specific attribute. Touch an element and you'll get a wealth of information, including a description of the name, symbol and family, as well as facts like melting point, boiling point, density, year of discovery and atomic weight.
Skeletal 3D Anatomy (99 cents): Interested in the human skeleton and anatomy? The Skeletal 3D Anatomy app shows each of the 206 bones in the human body, as well as categories of bone. View each bone separately in 3D, and manipulate with your finger to rotate the view. The built-in encyclopedia covers a number of bone-related topics, including structure, disease and fracture.
Science Glossary (free): Download this handy glossary to keep a wealth of science-related definitions at your fingertips. The app also includes short bios of some of the greatest scientific contributors, including Marie and Pierre Curie, Charles Darwin and John Dalton.
Mythbusters HD ($4.99): Who says science can't be fun? Explore the crazy antics of the Discovery Channel's Mythbusters duo by watching video clips. You can also compete against other Mythbusters fans by busting popular myths through multilevel games. The app includes more than 300 minutes of video content, Mythbusters news, information about the show and cast and a live chat with other Mythbusters fans through Twitter. A word to the wise? Don't attempt Mythbusters experiments at home!
We hope you have fun with some of our favorite science apps for the iPad. And if you have any others to add, we'd love to know what you recommend.