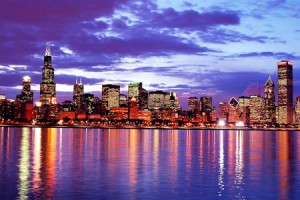 Manufactured gas plants (MGPs) existed throughout the United States in the late 1800s. At the time, MGPs used cutting-edge technology that converted coal to gas and provided fuel for heating, cooking and lighting. By the 1950s, MGPs were pretty much non-existent as natural gas became the fuel of choice. The sites of former MGPs, however, became an environmental liability, and cleaning up these sites is a complex operation. Later this month, manufactured gas professionals from around the world will gather in Chicago for MGP 2012, a symposium dedicated to the remediation and redevelopment of manufactured gas plant sites.
MGP 2012 will explore the issues of MGP remediation and redevelopment of today. Presenters will share case studies, including challenges faced and the best approaches for practical application. Topics include: remediation planning and management; use of innovative approaches and technology; regulatory issues; potentially responsible parties (PRP), insurance and financial issues; innovative reuse; soil vapor intrusion assessment, risk and control; assessment of sediment impacts and remediations; excavations and final deposition; in situ chemical oxidation experience; in situ stabilization experience, cost and monitoring; containment/tar recovery systems; community relations/third-party issues/natural resource damages (NRD); air monitoring, odor/emission control; and post remediation monitoring care and cost.
Burns & McDonnell's Tom Helfrich will moderate the session "Soil Vapor Intrusion." He'll lead a panel of experts that includes Nicholas A. Azzolina, who is affiliated with Carnegie Mellon University; Jim Lingle of the Electric Power Research Institute (EPRI); Bill Gregg of Summit Envirosolutions; and Diana Marquez of Burns & McDonnell. This session will explore potential vapor intrusion-related risks at former MGP sites based on case histories and studies over the past several years.
This is the fourth international conference on MGP remediation, an event that originated in Prague, Czech Republic, in 1995. "This is the only MGP symposium of its size, magnitude and depth that is known to convene between 2010 and 2015," says Helfrich. "It provides an unprecedented opportunity for MGP professionals from around the world to collaborate on MGP investigation, remediation and management."
Are any of our readers also attending MGP 2012? If so, stop by booth #117 to chat with our MGP professionals. Or, if you want to learn more about MGP remediation, connect with Jim Gould or Tom Helfrich on LinkedIn. And even if you're not attending, join the MGP 2012 group on LinkedIn to connect with other MGP professionals from around the world.
Photo courtesy: smartdestinations.com