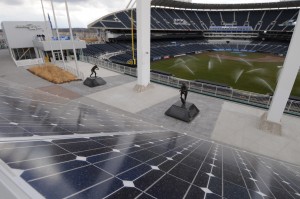 In a move toward increased sustainability, solar panels are the latest innovation at Kansas City's Kauffman Stadium. As you head to Opening Day or another Royals game during the season, take a gander over to Kauffman's Outfield Experience at the north end of the stadium and you'll catch a glimpse of the newly installed solar panels.
The 120 panels represent what the Royals and Kansas City Power & Light call "the largest in-stadium solar array in Major League Baseball," according to MLB.com's Dick Kaegel.
The panels will provide a portion of the electricity used to operate the stadium, and are part of Kauffman Stadium's ongoing sustainability efforts and its desire to become one of the most environmentally friendly facilities in sports.
"The solar panels, while unobtrusive in the appearance of the renovated stadium, can be seen from every seat and will be on display internationally during the All-Star Game on July 10 at Kauffman," writes Kaegel.
As with other types of renewable energy, it's important to not only channel the source as alternative power, but to also educate the public about the energy source and what it can do. As part of the Kauffman Stadium solar installation, an interactive display will be available at an educational kiosk in the Outfield Experience. The kiosk will give stadium visitors a better understanding of how the solar installation works—and how Kauffman will use solar-generated energy to help power parts of the stadium, including beverage refrigeration.
The solar panels aren't the only new additions to Kauffman Stadium. Burns & McDonnell served as owners engineer for the recently completed renovation of Kauffman Stadium, including new entrances that will greet fans during the 2012 baseball season. In addition, Burns & McDonnell is working with KCP&L in demonstrating a working solar photovoltaic system as part of Kansas City's Green Impact Zone.
Kauffman Stadium also has other green initiatives in place, including recycling and paperless ticketing. The goal is to for Kauffman Stadium to be a more environmentally friendly location and stay aligned with the MLB's renewable energy initiatives, which began with a partnership between the MLB and the Natural Resources Defense Council that started in 2005.
"Baseball is a social institution with social responsibilities and caring for the environment is inextricably linked to all aspects of the game," MLB Commissioner Allan H. (Bud) Selig said on the NRDC website. "Sound environmental practices make sense in every way and protect our natural resources for future generations of baseball fans."
After all, it only makes sense that America's favorite pastime find a way to sustain itself and its resources for decades to come, not to mention setting an example that may inspire other athletic organizations.
Would you like to see solar panels installed at more stadiums? And if your hometown team is finding ways to go green, we'd love to hear about them in the comments.
Image via Around the Horn in KC