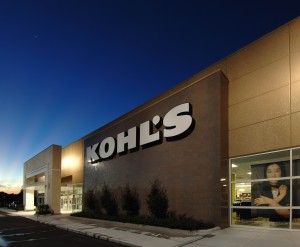 Kohl's Department Stores has established itself as a leader in corporate sustainability and rightfully so. Its commitment to recycling, sustainable building, minimizing waste, reducing energy consumption and cutting emissions is evident in its Kohl's Cares program. It ranks among the EPA's top green power partners — first in retail, second overall and was named as a Green Power Partner of the Year in 2011 — and has earned an Edison Green Award for the company's sustainable business practices. Last year, Kohl's became the first U.S. company to earn LEED Gold precertification under the U.S. Green Building Council's (USGBC) LEED Volume Program.
The USGBC launched the LEED Volume Program in late 2010 to streamline the LEED certification process for high-volume property owners like Kohl's. Using a prototype-based approach, the program allows building owners to achieve multiple LEED certifications faster and at a lower cost than would be possible by certifying each building individually. In order to qualify as high-volume, one owner has to certify a minimum of 25 buildings within a three-year period, and has to design its buildings according to the pre-certified prototype.
Kohl's has been an early adopter of the LEED Volume Program; the company signed on as a pilot participant in 2007 before the program officially launched. Before that, the company opted to set its own standards for sustainable building in lieu of LEED certification because the existing process was too cumbersome for the company to manage. After the program launched, Kohl's only had to make small adjustments to its existing sustainable building practices to qualify for LEED Silver precertification.
Taking it a step further, Kohl's created a new prototype that meets LEED Gold requirements — the highest level of LEED certification — earning additional credits in areas like interior water use, stormwater management and alternative transportation. The precertification status allows Kohl's to design and construct new and existing stores in accordance with the prototype. Once construction is complete, the building has a much shorter road to LEED Gold certification.
Kohl's announced last fall that as part of its participation in the LEED Volume Program, it plans to more than double its number of LEED certified stores from 200 to 500 by the end of 2015. In a company news release, Kohl's Chief Administrative Officer John Worthington said, "Not only do we want to ensure that our stores and facilities provide a convenient, fresh and exciting destination for our customers and partners, we want to do so in a way that demonstrates sustainable practices and principles of leadership for our communities, business partners and industry."
We think Kohl's has done an admirable job of demonstrating sustainable building on a large scale. What other companies, large or small, are leading the way in corporate sustainability?
Image credit: greenbuilding.groupsite.com