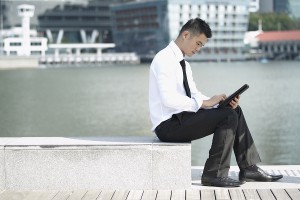 Engineers like gadgets. And iPads are pretty much the hottest gadgets around. So if you're an engineer or work in the engineering field, you might like some of our new favorite iPad apps for engineers.
Graphing Calculator ($1.99): If you miss the days of the TI-85 (we know we do), try this app as a substitute. The graphing calculator turns your iPad into a scientific calculator that can plot multiple equations on one graph, evaluate graphs at any x value or provide conditional statements that allow you to restrict the domain and graph piece-wise functions. Plus, you can take screen shots of your graphs and email them to yourself for future reference. And if you have an Apple VGA adapter, you can display your graphs using a TV, projector or external monitor. Graphing Calculator is also available on Windows Phone 7.
FingerCAD ($5.99): Create technical drawings with the touch of your finger. FingerCAD allows you to draw houses, bridges, mechanical components, geometrical figures and more. Thanks to the app's portability, it's a great tool for the work site. You can zoom, pan and customize drawings, and the app also features common CAD tools. When you're done, export your drawings as PDF files, or save them to your Dropbox account. You can also print your images using AirPrint, or export your files in the DXF format. If you need to import CAD images, FingerCAD supports files from AutoCAD, qCAD and SolidWorks, among other programs.
HVAC Professional ($7.99): This is a must-have app for any HVAC professional. The app includes 200 formulas, as well as the complete International Mechanical Code. A future upgrade will be available for free to current users that will add the International Energy Code. If you commonly use certain HVAC formulas, you can bookmark them to your favorites list in the app. Plus, you can save and email formula results. Available formula categories include airside, boiler, BTU conversions, energy, heating design, humidity, loads, piping, refrigeration, steam and temperature, among others.
iCircuit ($9.99): iCircuit is a great tool for electrical engineers. The advanced simulation engine lets you design and experiment with circuits. Plus, iCircuit is always simulating, so it's like working with a real circuit. You don't need to pause for measurements or report configuration. Instead, you can interact with the circuit as it continues to run. You can also read voltages and currents and, if you want to see how a value changes over time, you can add values to the app's built-in oscilloscope. iCircuit is now available for Windows Phone.
Autodesk ForceEffect (Free): Who needs pencil, paper and a calculator when you have Autodesk ForceEffect? The mobile engineering app simulates design concepts and produces equations for design options. The app offers real-time solving capabilities. Plus, you can print, email or view your results, or export them into CAD as DXF files. Use the in-app tutorials to help get acquainted with the app's features. And if you prefer virtual storage, Autodesk ForceEffect offers the ability to save and load files using the Autodesk Cloud. Talk about engineering on the go!
Now that you've turned your iPad into a lean, mean engineering machine, you can work anywhere, right? Or at least give yourself something to do besides Angry Birds. And if you don't have an iPad, don't despair — we've got you covered with our top picks for engineering iPhone apps, too.
If you have a favorite app that we missed, leave us a comment!