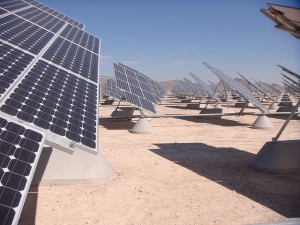 Industry focus on distributed solar solutions is laser-like. Solar energy is on the minds — and business plans — of just about everyone in the energy industry.
Ambitious plans like California's Million Solar Roofs initiative, which aims for the installation of 1 million solar roofs throughout the state by 2018, make the demand for distributed solar solutions even more critical.
Many in the energy, engineering and utility industries are wrestling with issues like market responses in terms of programs and rates, as well as responses from customers and developers. We've got some thoughts — and information — that we think might be useful.
These topics and others related to distributed solar will take center stage during our next Game Changers webinar at 2 p.m. ET on April 26. Bob Woods, director of electric system planning for Southern California Edison, and Tom Salas, SCE's manager of construction, will describe the utility's plans to install large, intermediate and small-scale solar photovoltaic rooftop installations and how they will be connected to the grid.
During the webinar, the discussion will also include distribution system impacts and how SCE plans to control the distributed energy resources. Installation issues — things like permitting, electrical, structural and architectural concerns — will also be addressed. The presentation will also share the number of photovoltaic installations operating today, projected installations and lessons learned to date.
The webinar is one in a series of episodes to be produced throughout 2012. The Game Changers series is a Burns & McDonnell, GE and Transmission & Distribution World magazine partnership exploring topics including electric vehicle charging stations, Smart Grid communications and marine renewables.
If you're interested in the upcoming webinar, register online. And if you miss a session, presentations are available to watch on demand.
The 2011 webinar series is also available on demand and includes nine episodes that explored innovative technologies and ideas that are changing how power is delivered and used by examining topics such as large battery storage, smart metering/advanced metering infrastructure, asset optimization and bringing together utility operations and IT for Smart Grid success.
Join us for the 2012 webinar series, which is scheduled to run through November. If you have any questions, please contact Burns & McDonnell's event coordinator, Kim Mulkey.
Image by theregeneration via Creative Commons