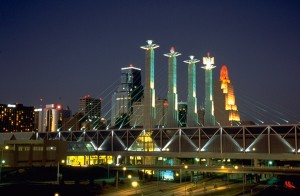 Recent findings from Pike Research indicate that utility spending on GIS services, software and tools will increase over the next five years, exceeding $3 billion in 2017. As a result, the upcoming MAGIC 2012 Symposium couldn't come at a better time as more companies and industries continue to explore how geographic information systems could improve their work flow and other processes.
Hosted by the MidAmerica GIS Consortium, the MAGIC 2012 Symposium is a 13th biennial event that serves as the premier GIS conference in the region. From April 22-26, GIS professionals in a number of industries will unite in Kansas City for a comprehensive event that combines exhibits, short courses and keynote presentations, all designed to promote the advancement of GIS and geospatial technologies by focusing on today's key issues and challenges.
The program is geared toward individual attendees. And by organizing sessions and topics into larger areas of interest, symposium organizers hope to deliver the most helpful and relevant information to attendees based on their industries and areas of expertise. Program tracks include:
Safe and Healthy: Using GIS in the public safety and health industries
Public Face of GIS: Moving GIS to the web and out to the public for mass consumption.
Smart Growth: Managing the growth of communities with GIS.
GIS Behind the Scenes: How to manage a GIS program, educate and retain staff, and communicate the GIS language to non-GISers.
Technology and Trends: Discover the latest technologies and see what's on the horizon.
If you're planning on attending the Technology and Trends track, be sure to attend a presentation by our own Jamie Katz. Jamie will present on Wednesday, April 25, from 3:30-5 p.m. on "Kansas DOT: Bringing Airspace Down to Earth."
During the presentation, Jamie will share a recent case study involving the Kansas Department of Transportation's Aviation division and Burns & McDonnell, who partnered to find a way to help reduce the number of FAA violations in the state's construction applications, as well as help the general public visualize airspace. The collaboration resulted in the creation of the Kansas Airspace Awareness Tool, which was recognized by the American Council of Engineering Companies as one of the top 24 projects in 2011 — more specifically, the tool was number one on the list of Honor Award recipients and finished eighth overall.
Not only will attendees learn more about the project, but they'll also hear firsthand about some of the obstacles encountered during the project and how those hurdles were overcome. At the presentation's conclusion, attendees will leave with a better understanding of how to make their data more widely available outside the traditional GIS, both to the web and to the public for mass consumption, and how to overcome the common challenges often faced in making this possible.
As you peruse the convention exhibits, be sure to keep an eye out for us — we're excited to be among many companies exhibiting at the symposium. We're always interested in finding out how other businesses and industries are using GIS technology, as well as sharing our experience involving recent projects and case studies.
If you're headed to MAGIC 2012, be sure to stop by our booth and say hi. And regardless of whether you're attending the conference or can't make it this year, be sure to follow all of the MAGIC 2012 action on Twitter using hashtags #magicgis or #magicgis2012. Oh, and while you're at it, give us a follow on Twitter, too!
Image via VisitKC