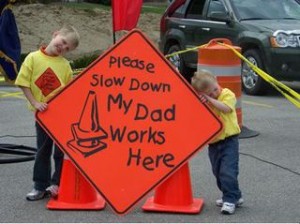 If you notice your city turning orange this week, don't worry — your eyes aren't playing tricks on you. The colorful change is all part of National Work Zone Awareness Week, an annual campaign to raise awareness about the dangers of highway work zones — and help keep drivers and transportation employees safe.
Many states across the country sponsor "Go Orange" campaigns to increase awareness about the upcoming construction season, and to honor the brave men and women who risk their lives working alongside fast-moving traffic every day to improve our nation's roads and bridges. To show our support, Burns & McDonnell's World Headquarters will go orange for the week — a visible reminder to passing motorists to slow down and drive with caution.
To stay safe this construction season and always, the Missouri Department of Transportation offers these smart driving tips.
Buckle Up – Every trip, every time. Safety belts save lives.
Stay Alert – Dedicate your full attention to the roadway.
Follow Signs – They'll safely guide you through work zones.
Expect the Unexpected – Watch for flaggers, workers and equipment.
Pay Attention – Turn the radio down and don't use your mobile phone.
Be Patient – Remember, workers are improving the road for future travels.
Don't Speed – Follow posted limits and adjust for weather conditions.
Don't Drink and Drive – Impairment of any kind is unacceptable.
Be Courteous – Merge as directed, don't tailgate and don't change lanes in a work zone.
Nearly 90 percent of the people injured or killed in work zone crashes each year are motorists, and most of these accidents are preventable. So the next time you're barreling through a work zone, remember this: It takes only two additional minutes to drive a two-mile stretch of highway that has been reduced from 65 mph to 45 mph. And those two minutes just might save your (or someone else's) life.
We hope you'll join us this week in showing support for National Work Zone Awareness Week and honoring those who have been injured or tragically lost their lives in work zone accidents. As the temperatures heat up, work zones will become increasingly common — and by taking the time to slow down and pay attention, you can do your part to make sure everyone gets home safely.
Image via The United States Department of Transportation (fastlane.dot.gov)