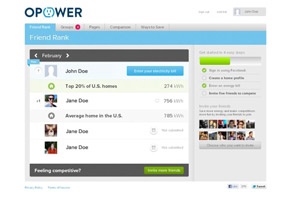 More and more utilities are using social media channels to communicate with clients. PG&E recently took its social strategy to the next level with the creation and implementation of a Facebook-based social energy application that gives customers a chance to share and compare their energy use with their Facebook friends.
The app was created by Opower in partnership with Facebook and the Natural Resources Defense Council and "provides insight into individual energy use while fostering friendly competition," according to Transmission & Distribution World magazine.
Once PG&E customers connect their utility accounts to the app, they can compare their home energy use to those with similar homes. And as their Facebook friends start to use the app, they'll be able to participate in savings competitions.
Plus, the app gives users the ability to share information about energy use and conservation tips through Facebook's newsfeed, creating a helpful resource that will also encourage energy-related dialogue.
"Many of our customers use social media to help them manage their daily lives, whether arranging a get-together or playing a social networked game," Steve Malnight, vice president of Customer Energy Solutions with PG&E, said in T&D World's story. "With this new app we are excited to offer customers a fun and engaging place to talk about how they use energy and show their friends how saving energy can mean saving money."
Gamification continues to grow in popularity, and Facebook is currently the ideal platform with some 900 or so million eyeballs. Gamification seeks to make ordinary things — like comparing energy usage and trying to "win" by consuming less energy on a daily basis — fun. PG&E's decision to incorporate gamification into the app makes sense. Using gamification as a way of not only enticing customers to use the tool but also engaging them by making energy consumption (or lack it) a competition is pretty smart.
And while it's fun to compete against friends and family to see who has the most energy-efficient home, there's a greater prize at stake, too — not just for individual utility customers, but for the larger population.
"Improvements in energy efficiency have the potential to deliver more than $700 billion in cost savings in the United States alone," said Brandi Colander with NRDC's Energy and Transportation Group, as quoted by T&D World. "Motivating customers to take action — a longstanding challenge — is the key to unlocking this potential."
Image via PG&E Currents