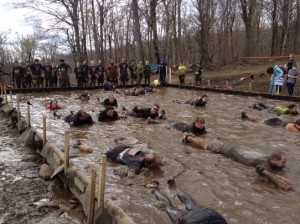 There's nothing like testing your physical and mental endurance during extreme conditions—and during the recent Tough Mudder competition in Mount Snow, Vermont, employees from Burns & McDonnell's New England office did just that.
For Tough Mudder, a 10-plus-mile course designed by British Special Forces, we partnered with our friends at Northeast Utilities and took the concept of team-building to a whole new level. The course tests strength, stamina, mental toughness and camaraderie through obstacles like the Electric Eel, during which participants slide through frigid water while trying to avoid electric shocks overhead, or Fire Walker, a trench of blazing straw in which flames can reach four feet high. Sounds crazy, doesn't it?
The Tough Mudder event was awesome in so many ways. It not only provided a way for participants to test their physical limits but also introduced a philanthropic element. Proceeds from the Tough Mudder benefited the Wounded Warrior Project, our 2012 Charity of Choice. The Wounded Warrior Project's vision is "to foster the most successful, well-adjusted generation of wounded service members in our nation's history" through a number of resources, including enlisting the public's health to raise awareness and aid, as well as providing programs and services that meet needs of injured service members.
There's no denying that the Tough Mudder was, well, tough — but if the reactions from the participants are any indication, the event was as fulfilling as it was grueling.
"I was deeply moved by how the essence of the Wounded Warrior Project showed itself at every turn," says Kathleen Shea of Northeast Utilities. "Camaraderie, character, strength, spirit and empathy literally allowed me to test my own boundaries and be inspired by the greatness of others. I learned so much during this very rewarding experience."
Tough Mudder was "another example of our team's willingness to go the extra mile--even if it involves going through some mud," says Jerry Fortier of Northeast Utilities.
Would you put yourself to the test during the Tough Mudder? It may just be headed to a city near you!