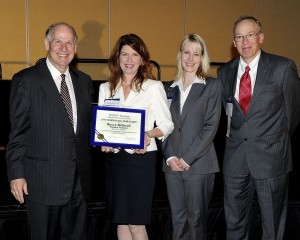 It was a huge honor to learn last week that Burns & McDonnell was recognized by the ESOP Association as the 2012 Company of the Year. We're proud to join the ranks of the dozens of other companies that have received this honor and have laid the foundation for what it means to be Company of the Year.
The ESOP Association presents this award annually to a company that embodies employee-ownership. They cited our internal and external promotion of ESOPs; our involvement with ESOP industry groups; our engagement with regulatory agencies and legislators; the various ways we educate, share and participate in the ESOP throughout the year; and our continuous celebratory and giving back initiatives.
"I've had the pleasure of visiting Burns & McDonnell, and it was an amazing experience," said ESOP Association President J. Michael Keeling. "The employee-owners of Burns & McDonnell strive to make their company stronger each day. The company works to communicate the ESOP concept not only to the employee-owners but to the ESOP community at large."
The ESOP Association represents employee-owned companies in America. Among its core beliefs are that employee ownership improves American competitiveness, increases productivity through greater employee participation, and strengthens our free enterprise economy. We have witnessed first-hand the benefits of our ESOP and have made internal and external ESOP education a top priority.
So what is ESOP anyway? It stands for employee stock ownership plan, and it simply means that our employees own the company through a tax-qualified retirement plan. Employee-ownership is the backbone of our company culture and it's often the first thing that many of our employees cite as something that makes this a great place to work. And it's also what pushes our employees to be better every day.
Last year we celebrated our 25th anniversary of employee ownership, and we're thrilled that this achievement comes on the heels of such a significant milestone in our company's history.
"It is an honor to be recognized as the ESOP Company of the Year," said Denny Scott, Burns & McDonnell chief administrative officer, who has served as president of the Heart of America Chapter of the ESOP Association. "Not only is it a recognition of the hard work we put into educating fellow employee-owners about our ESOP status, it is also a reminder of how fortunate we are to own the company we work for."
We accepted the award on May 9 at the 35th Annual ESOP Conference in Washington, D.C., where we were also honored with a Silver Award, which recognizes companies with 25 years or more as an ESOP, and two awards for communication excellence.
We're thrilled to be named Company of the Year, and we owe a great big shout-out to the 3,500 employee-owners of our firm. So congratulations to all of you, and thank you to the ESOP Association for this truly remarkable recognition.