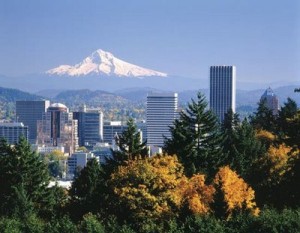 The National Association of Environmental Professionals will convene in Portland, Ore., on Monday for the 37th annual conference, "Science, Politics and Policy: The Nexus." This four-day event is the annual conference for environmental professionals involved in NEPA compliance and other big-picture environmental issues.
The conference draws a diverse audience including engineers, architects, biologists, lawyers and social scientists. These are the people who write environmental impact statements and are involved in environmental decision making. No doubt about it, they do some pretty fascinating — and important — stuff.
So what can you look forward to? For Burns & McDonnell's Harold Draper, current NAEP vice president, it's the variety of educational tracks offered at the conference. There are 10 tracks that focus on range of environmental issues:
• Brownfields
• Cultural Resources
• Energy Boot Camp: Environmental Professionals and the Renewable Energy Economy
• Land & Watershed Management
• NEPA (National Environmental Policy Act)
• Professional Development
• Public Participation
• Transportation
• Visual Resources
• Wetlands
The conference has three prominent keynote speakers on tap. In his speech, "Planners as Leaders: Leading in the Chaos," John Morgan of The Chinook Institute and MorganCPS will address the complexities of working with so many different people and agencies on environmental projects, and how leadership brings order to an otherwise chaotic process.
Oregon Attorney General John Kroger's session, "Protecting Oregon's Environment," will explore his experience working with the Oregon Department of Justice and other state agencies to protect the environment, how he was instrumental in establishing the first environmental crimes unit, and other regulatory processes.
Mike Houck of Urban Greenspaces Institute wraps up the keynotes with "Exploring the Intertwine, Integrating the Built and Natural Landscapes in the Portland-Vancouver Metropolitan Region," in which he'll describe the evolution of the Portland-Vancouver region's parks system and the role The Intertwined Alliance plays in managing and expanding the system.
Draper expects the keynote speakers to provide inspiring examples of what can be accomplished in the industry, but he says, "The best part of any conference, of course, is what happens during the breaks and in the hallways. You meet new professionals, get reacquainted with people you met in previous years and become energized."
A bonus? Conference attendees are eligible to receive AICP certification maintenance credits from the American Planning Association, including six law credits.
If this sounds like something you're interested in, whether you're attending the conference or not, be sure to check out NAEP's LinkedIn Group to connect with other environmental professionals. And if you're arriving in Portland early, check out the Portland Saturday Market for a true taste of Portland and some local, handmade goods.