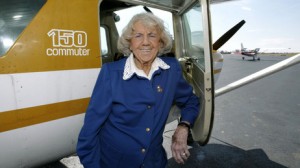 'Mama Bird' Evelyn Johnson, a renowned figure in the aviation industry, died earlier this month at the age of 102. The Corbin, Ky., native was born just six years after the Wright brothers' first flight in 1903 and logged a record-setting 5.5 million miles throughout her flying career.
Johnson flew so much, in fact, that she holds the Guinness world record for most hours logged by a female pilot — more than 57,000, to be exact.
In addition to fulfilling her own aviation ambitions, Johnson dedicated her career to helping other pilots, too. Johnson estimated that she trained approximately 5,000 student pilots and certified more than 9,000 for the Federal Aviation Administration.
Johnson was a skilled pilot who could maneuver a variety of aircraft, including Cessna aircraft, jets and helicopters. She was one of the first women to earn a helicopter pilot's license, which gained her entrance into WhirlyGirls.
Her love for aviation and flying remained palpable through the end of her life. Despite being unable to fly after losing a leg and suffering from glaucoma, Johnson served as the longtime manager of the Moore-Murrell Airport in Morristown, Tenn., where she worked up until her death.
Johnson's love of aviation began after she took her first flight lesson on Oct. 1, 1944. Johnson wanted to take up a hobby after her husband, W.J. Bryan, joined the Army Air Corps shortly after the Pearl Harbor attack. After that, Johnson racked up as many accolades as she did flying miles, becoming FAA Flight Instructor of the Year in 1979 and being inducted into the Women in Aviation International Pioneer Hall of Fame, the Flight Instructors Hall of Fame and the Kentucky and Tennessee Aviation Halls of Fame, to name a few.
"Evelyn Johnson was a unique individual who devoted her life to the general aviation community," says Robert Crain, AICP, Burns & McDonnell Aviation/Military Planning project manager. "She touched so many lives during her career. The fact that she trained so many pilots is a testament to her determination to make a difference in the world. She will be missed, but her legacy will continue."
Image via NPR