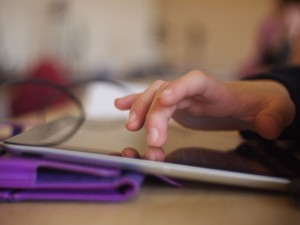 Being engineers and all, we're pretty passionate about STEM (science, technology, engineering and math) education. No surprise there. It's also no surprise that we collectively love gadgets, so apps that revolve around learning are big with us.
And even though summer vacation has begun, learning doesn't have to stop. Everybody needs a break from the pool every now and then!
The iPad has already proven itself as a powerful educational tool. And it's especially useful for STEM applications. The best part? iPad apps are typically similar to games, which means kids are learning without even realizing it.
As you prep for a summer filled with fun, take a few minutes to download these 10 STEM iPad apps and encourage your kids to explore them. Who said learning can't be fun?
Coin Math ($1.99): Using coins, kids will learn how to count, add and make change. This is a great app that combines math skills with the practical application of handling money. Coin Math is recommended for users at the elementary grade level.
King of Math (free for basic version; 99 cents for the full version): This fast-paced game allows players to advance to various levels after answering math questions and problems. The subject matter includes addition, subtraction, division, fractions, equations, statistics and more. As you answer more questions, you'll collect stars and achievements and can also compare your score with your friends. The app is ideal for middle school/junior high users.
TinkerBox HD (free): Learn basic engineering concepts while you build machines and create your own inventions. Once you've finished your machine, you can share it with your friends. TinkerBox also includes a puzzle mode, which includes physics-based puzzles and mechanical concepts. You must rely on your creative problem solving skills to win.
Cat Physics (99 cents): Who knew that playing with cats could help you learn physics? In Cat Physics, you'll pass the ball from one cat to another. Sounds simple, right? You'll also have to deal with obstacles like flip boards, glass windows and trap doors, to name a few. The app includes 100 puzzles, so you'll have plenty of opportunities to test your cat physics skills.
The Chemical Touch (99 cents): This is a simple yet info-packed app that lets users explore the properties of elements, standard amino acids and nucleobases. Learn about the elements using a touch-sensitive periodic table, which you can organize by color depending on various properties. For even more information about each element, amino acid or nucleobase, the app takes users directly to the Wikipedia page for each object.
SimplePhysics ($1.99): In this game, you're tasked with building something structurally sound that accomplishes a certain task. Plus, you've got to build it with as little money as possible — the challenge for any engineer, right? Once your design is complete, you can test it with explosions or by smashing it. When you've created a winning design, you can share the blueprints with your nearest and dearest.
AL Abacus ($1.99): An abacus on an iPad — the past has officially met the future! The abacus is a time-tested tool that helps kids learn math and arithmetic by encouraging them to visualize quantities, minimize counting and develop mental strategies. The app includes a double-sided abacus that's grouped in fives and tens on one side, and trades to the thousands on the other.
Sid's Science Fair ($2.99): From the minds of PBS and the Jim Henson Company comes this app designed for kids ages 3 to 6. It features Sid, the star of "Sid the Science Kid," and uses three science fair games to help kids with experiential learning in core science and math concepts like classification, charting and sequencing.
Solar Walk ($2.99): Explore outer space with Solar Walk, an app that features an interactive model of the solar system and Milky Way. The time machine function allows you to travel through space and time, and you can also see real-time trajectories of Earth's artificial satellites. Learn about each of the planets, including name, mass, radius and internal structure. If you know a space-loving kid in your life, this app is a must!
Bobo Explores Light ($4.99): Billed by the app developer as "a fully functional science museum for kids 4-12," Bobo Explores Light is an app that combines fundamental science concepts with humor and whimsy. Explore topics like lasers, photosynthesis, colors and bioluminescence, as well as 3-D holograms. You can also take pictures of your experiences with the app and send them as postcards to your friends or to other iCloud-enabled devices.
Your kids don't know it yet, but they've got a whole summer of learning ahead of them. And you can rest assured that they're avoiding the dreaded summer brain drain!
Did we miss any of your favorite STEM iPad apps? If so, let us know in the comments.
Image by flickingerbrad via Creative Commons