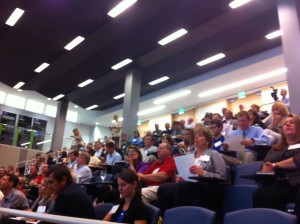 Pursuing sustainable business practices has become a priority for organizations across all industries, whether they're working to improve the bottom line, responding to consumer demand or both.
Although companies have experienced varying degrees of success after identifying and implementing sustainability initiatives, the pursuit hasn't been without challenges — and attendees of Burns & McDonnell's annual Sustainability Summit received a firsthand glimpse of those obstacles and triumphs.
Last Friday, participants gathered in Burns & McDonnell's newly completed auditorium for the annual summit. This year brought one significant change in the Sustainability Summit. For the first time, the National Association for Corporate Directors and other institutions were asked to invite their membership, and, as a result, more than 250 attendees gathered to hear about sustainability best practices, challenges and why this concept has become a critical part of day-to-day business operations.
This year's summit brought together an impressive panel of speakers that represented a wide array of industries and businesses. They included Ralph D. Reid, vice president of corporate social responsibility for Sprint; Steve DiGiacinto, director of risk management services, and Carol Hallquist, vice president of Hallmark corporate foundation and sustainability, both of Hallmark; Mike Wallace, director of Focal Point USA; Iro Altraide, School of Forestry and Environmental Studies representative from Yale University; Roy D. Swafford, director of Installations Division for the Oregon Army National Guard; Somali Tomczak, director, regional environmental health and safety for AGL Resources/Nicor Gas; Eric Battino, supplier sustainability manager for PepsiCo; and Thomas Niemann, sustainability reporting manager for Ford Motor Co.
And although the speakers represented a wide variety of businesses and industries, a key theme emerged: Sustainability not only makes good business sense, it drives business decisions. Summit speakers also touched on the importance of involving employees and stakeholders when implementing sustainability-related initiatives and practices.
Take Hallmark headquarters, for example. Five floors of the building have no wastebaskets — instead, all trash is composted or recycled, a campaign that resulted in 335 tons of waste being diverted from landfills in the first year. Employees watch a brief video that provides helpful information on how to sort their trash, and executives are planning to roll out the program building-wide.
Creating efficient, sustainable structures is also a priority. The Sprint campus, in Overland Park, Kan., is an example of such sustainability. The campus was designed to protect and use existing environmental features on the land, including wetlands and prairie grasses.
A number of other successful ideas were shared, ranging from paper and water reduction to electronics recycling and improved packaging.
Although attendees weren't shy about sharing case studies highlighting successful implementations of sustainability plans, they also didn't hesitate to share obstacles. One of Hallmark's most challenging goals, for example, is water reduction. Because the company doesn't use a lot of water, further cutting consumption is proving difficult. While creating an action plan as part of the U.S. Army's Net Zero pilot program, the Oregon National Guard realized that they have "significant changes to make," according to Roy Swafford.
Creating a plan to incorporate sustainable business practices isn't easy, and achieving the goals established by that plan can be even more challenging. Yet by offering information about what's worked — and where they're headed — the summit speakers gave attendees a wealth of information that they can apply to their own businesses.
As Ford's Thomas Niemann shared, "Great products lead to a strong business, and strong businesses have the ability to make a difference."
And after all, isn't making a difference what sustainability is all about?
If you joined us for this year's summit, we'd love to hear what you thought. We plan to post video from the summit, as well as selected slides from speakers, so stay tuned to the blog for details!