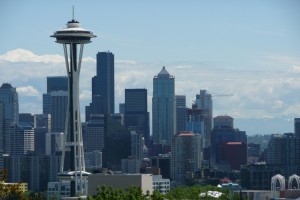 Today we're joining some of the biggest players in the public power industry at the 2012 American Public Power Association National Conference in Seattle. The conference connects hundreds of public power leaders — utility boards, mayors, city council members, utility executives, senior managers and industry partners — all gathered to address the challenges and critical issues facing the public power industry.
Conference attendees will have the opportunity to hear about innovative ideas, developing trends and new technologies from utilities across the country, as well as about the impact of new rules and regulations coming down the pipeline. A panel of nationally recognized speakers will address political, economic and social trends that will influence not only the future of the public power industry, but also our country.
At the top of our must-see list are two sessions: today's "15 Ideas for Successful Energy Efficiency and Demand Response Programs" and tomorrow's "Educating Customers about the Benefits of Advanced Grid Technology."
Although the conference is just getting under way, many conference participants came to Seattle early and spent Friday volunteering for the fifth annual Public Power Day of Giving, benefiting four charities in the Seattle area: Childhaven, Jubilee Women's Center, People for Puget Sound and YWCA of Seattle. Volunteers assisted with yard projects, meal preparation, teaching professional skills to women in need and collecting donations for young children who have been the victims of abuse and neglect.
Burns & McDonnell is one of more than 100 industry suppliers, vendors and consultants exhibiting at the Public Power Expo today and tomorrow. If you're in the exhibit area, stop by booth #420 and say hello. And if you're attending, leave us a note here and let us know about the sessions at the top of your must-see list. We look forward to seeing you there!
Image by angela n. via Creative Commons