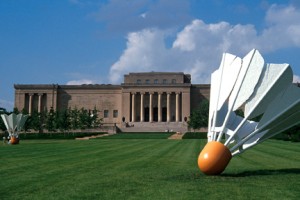 The 2012 MLB All-Star Game is headed to Kansas City for the first time in nearly 40 years, so the metro area is preparing for a huge influx of out-of-town visitors.
We're always proud to have the national spotlight shine on our hometown, and we love showing off all that Kansas City has to offer. Sure, you may think of barbecue and fountains when you think of our beloved Cowtown, but trust us — Kansas City really does have something for everyone.
So whether you're headed to town for the All-Star game and its festivities, passing through on another occasion or already live here, there's no better time to get out and explore. To help guide your journey, we thought we'd share some of our favorite things to do in Kansas City.
Take a tour. The new Taste of Kansas City Food tours or the Kansas City Public Library's self-guided Library District walking tour are two great ways to get an up-close look at two of Kansas City's favorite things: food and architecture. If you fancy yourself a modern-day explorer, make one of these tours a must-see part of your agenda.
See a show. Once you get a glimpse of the Kauffman Center for the Performing Arts, you'll understand why the state-of-the-art facility is known as the crown jewel of downtown Kansas City. Designed by famed architect Moshe Safdie, the Kauffman Center is home to the Kansas City Ballet, the Kansas City Symphony and the Lyric Opera of Kansas City, not to mention other live performances throughout the year. Even if you don't have time for a show, this magnificent structure is a prime photo opp.
First Fridays. If your visit happens to coincide with the first Friday of the month, consider yourself in luck. First Fridays is a gallery crawl that winds through downtown Kansas City's artistic Crossroads District. A number of local retailers also stay open late, making this is an ideal shopping excursion, too. Plus, you'll find no shortage of bars and restaurants throughout the district, the perfect spot to enjoy happy hour or dinner and discuss your favorite galleries.
Museum visits. The summer months can be downright sweltering in Kansas City. To beat the heat, head indoors to one of the city's many museums. Learn more about the Negro Leagues and Kansas City's baseball heritage at the Negro Leagues Baseball Museum. Or spend time soaking up the city's unofficial soundtrack at the American Jazz Museum. If you love art, the Nelson-Atkins Museum of Art and Kemper Museum of Contemporary Art are both must-see stops — and they're within walking distance of each other, too. Other top contenders include the Arabia Steamboat Museum and the National World War I Museum.
An educational landmark. Kansas City's Union Station is a magnificent piece of architecture. And aside from serving as the hub of the city's rail travel, Union Station is also home to Science City, an interactive learning museum that's fun for children of all ages. While you're at Science City, be sure to stop by Science on a Sphere. The museum's newest exhibit was funded by a $1.2 million donation from the Burns & McDonnell Foundation, which will also help fuel other transformations within Science City.
Explore new heights. If you're eager to indulge your inner thrill-seeker, head to Worlds of Fun, the city's amusement park. While you're there, make sure you check out the Mamba, which towers 205 feet and reaches speeds of 75 mph. After you've had your fill of roller coasters, you can head to the adjoining Oceans of Fun waterpark for slides, waves and water rides.
Sports for all. Kansas City is home to some great sports teams. No matter what time of year you're here, you can likely find a sporting event to watch. Spend time at one of the most beautiful stadiums in MLB during a Kansas City Royals game, or prepare your ears for the deafening roar of Arrowhead Stadium when the Kansas City Chiefs play. The local MLS team, Sporting Kansas City, has a new stadium and a passionate fan base, and minor league baseball team the T-Bones is always fun to watch. NASCAR fans, we've got you covered, too. Just check Kansas Speedway's schedule before you come to town.
We could easily keep going, but hopefully these ideas will help you plan your own Kansas City adventure. Have fun, take lots of pictures, and no matter how you end up spending your time, just make sure you come back soon!
What are your favorite things to do in Kansas City? You're welcome to add to our list in the comments!
Nelson-Atkins image via the Kansas City Convention and Visitors Association