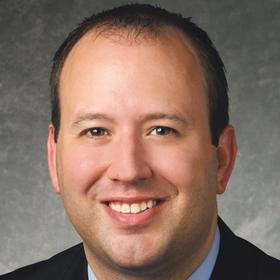 We're excited to announce that former Missouri House Minority Leader Mike Talboy has joined Burns & McDonnell as the company's first director of governmental affairs.
Mike began his new position earlier this month, a role that includes serving as Burns & McDonnell's liaison with local, state and federal officials in support of the firm's related business units.
As a result of his hiring, Mike will not seek a fourth term in the Missouri House.
"We are excited to have Mike join our team," said Burns & McDonnell Chairman and CEO Greg Graves. "As we have grown, it has become increasingly obvious that we need to be more proactively engaged with the legislative process at all levels of government. Mike has been an excellent representative for his constituents and Kansas City as a whole. With his grasp of the complex and important issues facing governments not only here in the Midwest, but around the country, Mike will help Burns & McDonnell be a more effective advocate for the solutions our clients need."
Prior to working for Burns & McDonnell, Mike served in the Missouri House since 2006. After just four years in office, he became the state's top-ranking Democrat. He's also worked as an attorney at Polsinelli Shughart and earned his Bachelor of Arts in communications and his Juris Doctor degree from UMKC.
"I could not be happier to join Burns & McDonnell," he said. "The commitment they have made to the state, our city, our communities and the people of Kansas City is without question. This is a company with endless potential, and I am honored they have asked me to help play a role in building its future."
Welcome to the team, Mike. We're happy to have you!