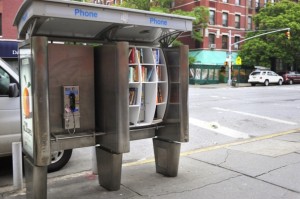 There's no denying that architects create beautiful structures, some of which, over time, become iconic. Beyond the mere aesthetics of a project, architects also create solutions — and can introduce a practical approach to an ongoing problem.
Take, for example, the guerrilla public libraries project in New York City. The proliferation of smartphones and mobile devices has all but killed the traditional pay phone, and, as a result, abandoned phone booths are taking up space around the city.
Enter Columbia University architecture graduate John Locke, who looked past the desolate structures and saw a world of potential. He's on a mission to make NYC's 13,659 phone booths useful again by installing shelves and filling them with books.
The goal is to encourage New Yorkers to "grab a good read (or, even better, leave their own volumes for others to adopt)," according to Refinery29. Plus, the shelves are inexpensive and easy to install, which means it can quickly and easily be replicated elsewhere.
"I want these to be cheap, fast and easily reproducible," John said in an interview with The Atlantic Cities. "The costs are minimal — the price of lumber and time on a CNC cutting machine. After that, the shelves slot together and slide right into the booths with no hardware or fasteners required."
We applaud John's idea and creativity. Sure, the colorful shelving and books make the phone booths a whole lot more attractive. But, at a deeper level, the project is about repurposing something that's no longer useful. Plus, an adaptive reuse of something like a phone booth is a great example of sustainability and using existing resources rather than building something new.
What do you think of the guerrilla libraries? Would you participate in a similar project in your own city?
Image via The Atlantic Cities